VERY IMPORTANT - LAKE GENEVA


Owing to a shortage of crews - several "Tourist sailings"
(by both paddle steamers and motor vessels)
have been CANCELLED at short notice
Click here for the latest position
"known to your webmaster"
YOU ARE STRONGLY ADVISED TO CONFIRM THE LATEST POSITION DIRECT WITH THE CGN BEFORE SETTING OUT
Thursday - 28th July 2022

PS Schiller (Lake Luzern)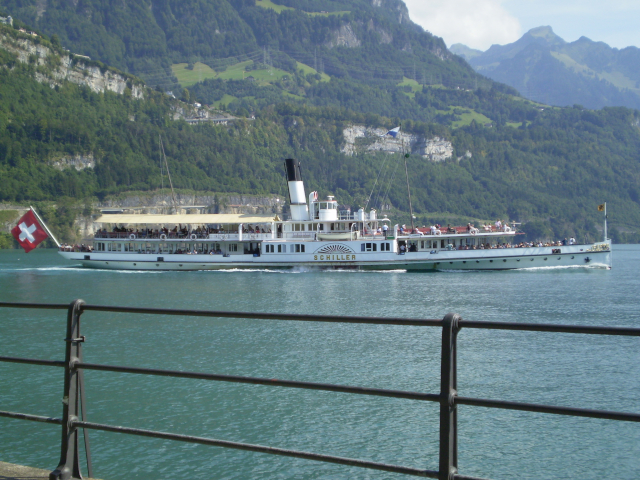 photo: Simon Caldwell
The paddle steamer sails close to the shore at Brunnen on her return sailing 26
from Flüelen to Luzern
Monday - 1st August 2022

3 Paddle Steamers (Lake Luzern)




picture: Luzern webcam
Just PSs Stadt Luzern, Schiller and Uri along with one motor vessel head off for Brunnen
on the annual parade on Swiss National Day - Monday 1st August

A far cry from earlier years when all five paddle steamers and several motor vessels took part
Monday - 1st August 2022

MPV Italia (Lake Garda)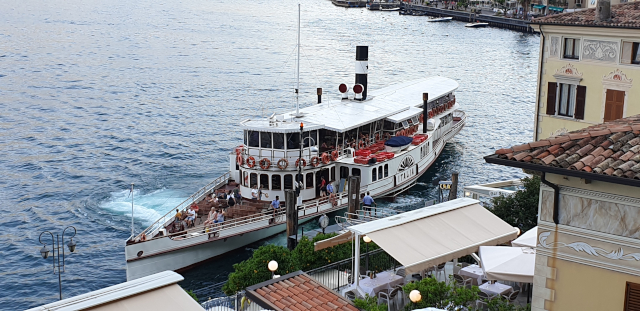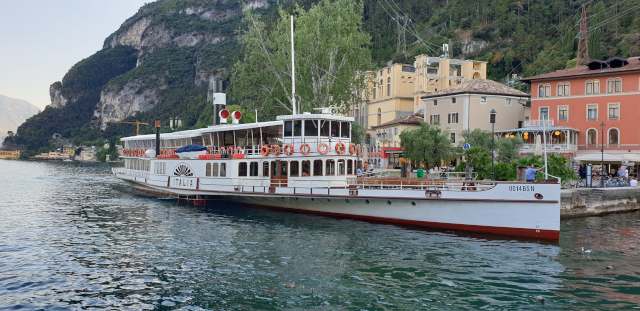 photos: Jean Gersbach
The motor paddle vessels returns home on the last sailing 78 of the day from Malcesine

She is seen calling ar Limone and later on arrival at Riva
Sunday - 17th July 2022

PS Unterwalden (Lake Luzern)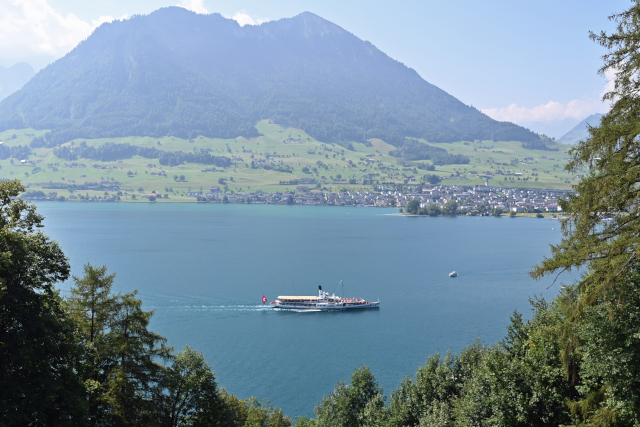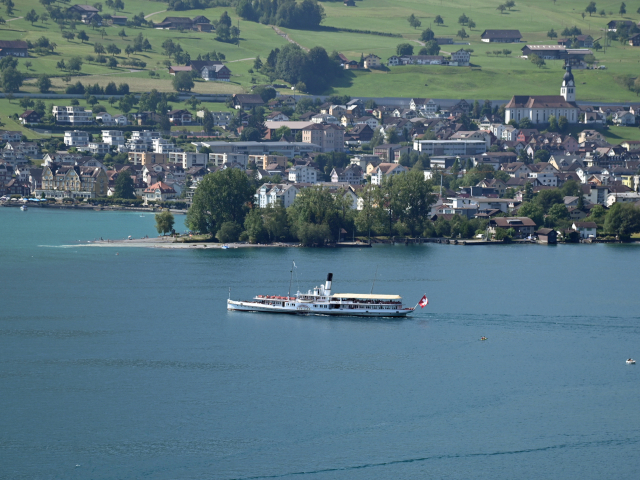 photos: Robert Horlacher
The paddle steamer sails close to Ennetbürgen and later approaches Bouchs
on the only steamer sailing 9 of the week (on Sunday mornings)
from Luzern to Beckenried which calls at these piers
Thursday - 28th July 2022

PS Rhône (Lake Geneva)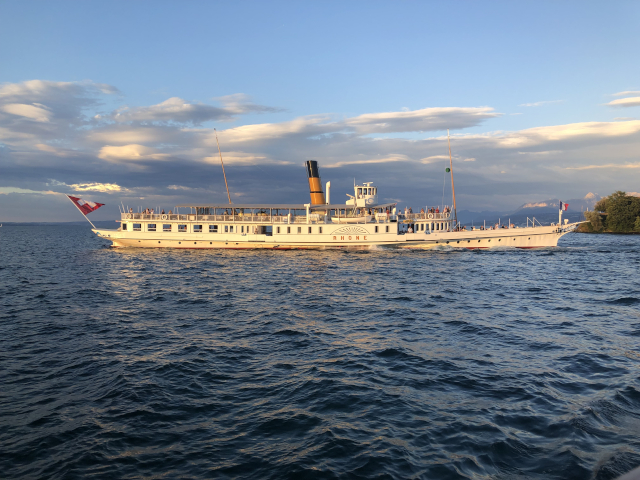 photo: William Campbell

The paddle steamer (which took over the Little-Lake sailing two days earlier)
inter-connects with her sister PS Montreux from Lausanne each evening at Yvoire

She is seen setting off back to Geneva on her last sailing 389 of the day
Tuesday - 19th July 2022

PS Unterwalden (Lake Luzern)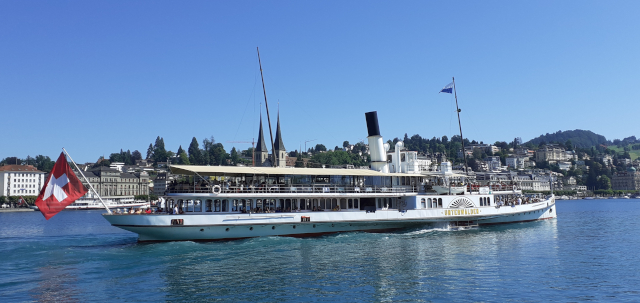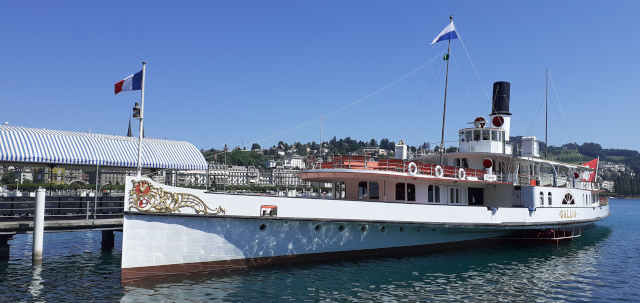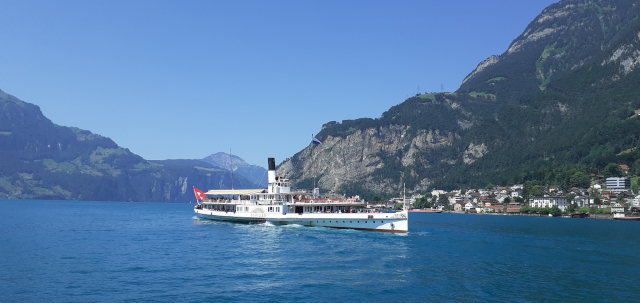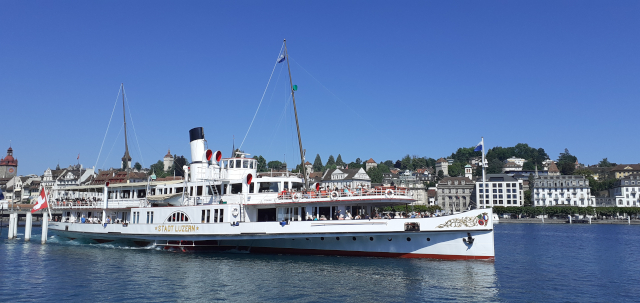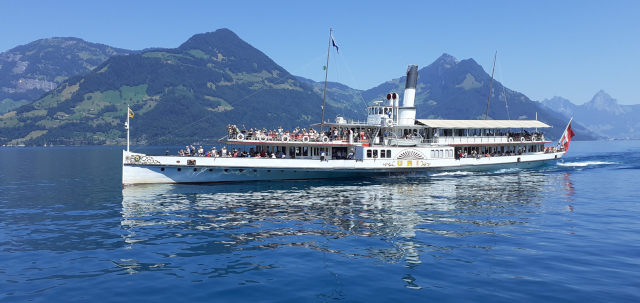 photos: Carlo Sottocasa

Prior to Covid, one of the small motor vessels used to operate a lunchtime cruise
"Round the Upper Lake" from Brunnen to cater for passengers walking along the
"Weg der Schweiz" (The Swiss path) calling at the main intermediate piers

These sailings 43-44 now start from Luzern
(also acting as a relief to the 1112 "Gotthard Panormic Express" sailing)
and are now rostered to a paddle steamer - normally PS Unterwalden on weekdays
or PS Gallia on Sundays

PS Unterwalden is seen setting off from Luzern on sailing 43 on a fine summer's day

The other four paddle steamers were also in service
Monday - 25th July 2022

PSs Rhône and Savoie (Lake Geneva)



click on photo to zoom in to the paddle steamers photo: Robert Monch

The "old" and the "new"
PS Rhône (left) has arrived from Lausasnne to take over the "Petit-Lac" (Little Lake)
sailings from PS Savoie which becomes the "standby" ship
Sunday - 24th July 2022

PS Savoie (Lake Geneva)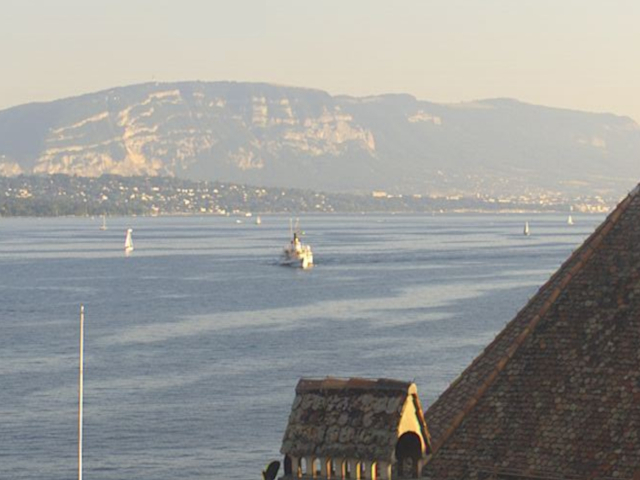 photo: Robert Monch also picture: Coppet webcam

The paddle steamer sets off from Geneva then later approaches Coppet
on her outward evening sailing 388 from Geneva to Yvoire and return

Owing to a shortage of crews, this became her final planned timetabled
sailing of 2022 ..........but she will resmain "on standby" at Geneva
in case of a major breakdown of one of her sisters

The following day PS Rhône sailed light to Geneva to take over the
"Petit Lac (Little Lake)" sailings which re-comenced on the Tuesday
whilst MPV Vevey covered her daily
Lausanne-Geneva-Lausanne sailings 101-106 from the Monday
Tuesday - 19th July 2022

PS Rhône (Lake Geneva)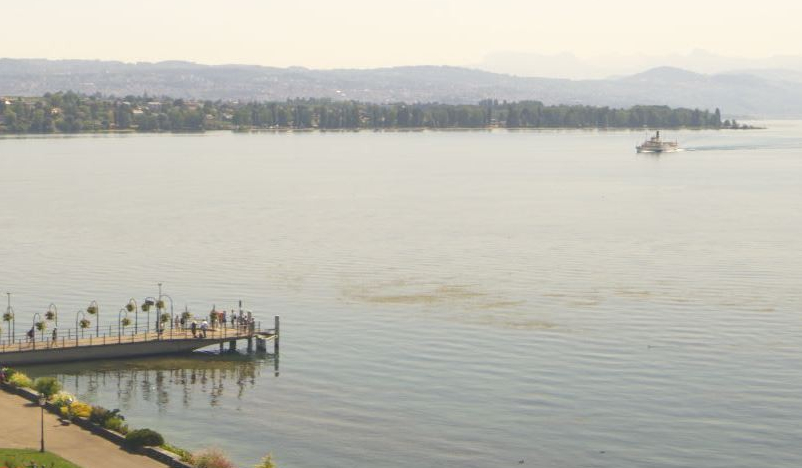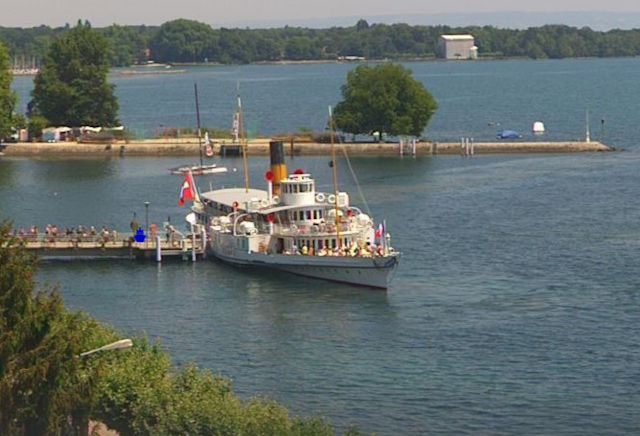 pictures: Morges and Nyon webcams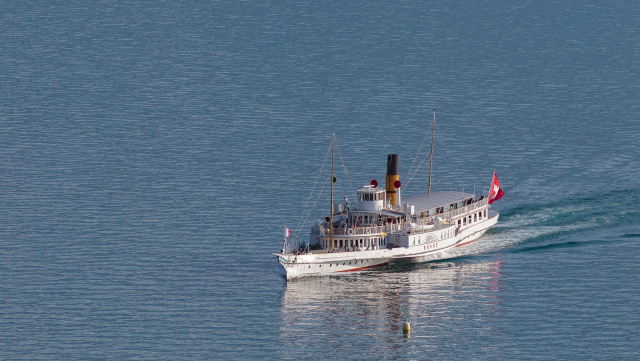 photo: Jean Vernet
The paddle steamer eventually returned to service after spending much of the
early-summer at Ouchy dock under repair
She is seen rounding the headland to approach Morghes pier and later calling at
Nyon on her slightly late outward sailing 101 from Lausanne to Geneva

After returning to Lausanne she then operated the evening cruise sailing 982
to Montreux where she is seen approaching
Sunday - 17th July 2022

MPV Vevey (Lake Geneva)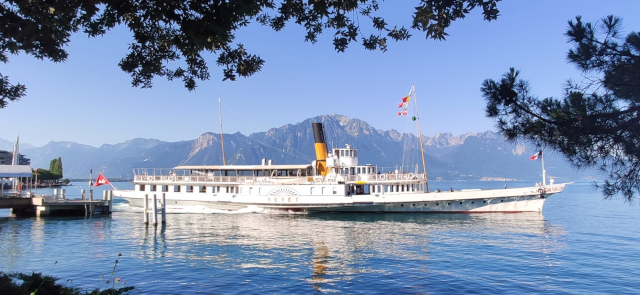 photo: Jean Vernet
The Le Bouveret based motor paddle vessel departs at Montreux on her first
sailing 901 of the day to Lausanne on a bright, sunny Sunday morning
Sunday - 10th July 2022

PS Unterwalden (Lake Luzern)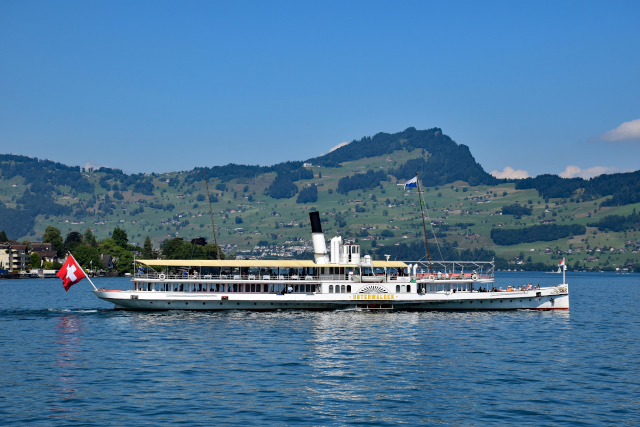 photo: Ernst Mischler
The paddle steamer operates an additional short timetabled "Breakfast Cruise" to
Beckenried on Sundays which also acts as a feeder into and out of other sailings

As there is only one berth at Beckenried, she has to call (to set down) then move
out of the way to allow two other ships to call before returning to the pier
(to pick up) with those remaining on board getting an additional short sailing
"off-Bechenried" - known affectionately by some locals as the "dog tour"

She is seen circling round between sailing 9 from Luzern and
sailing 10 returning back to Luzern
Friday - 8th July 2022

PS Savoie (Lake Geneva)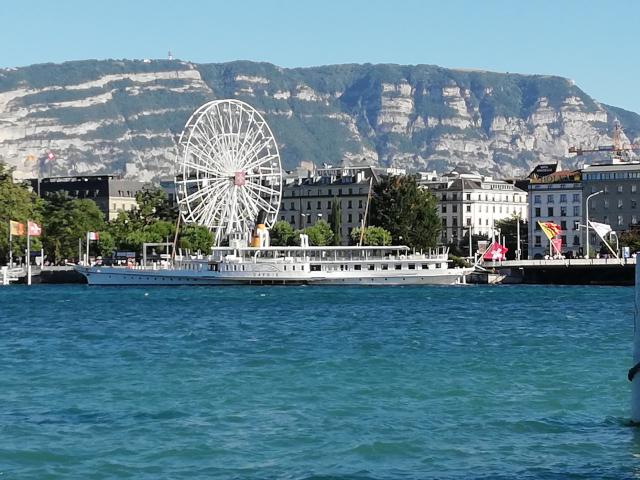 photo: Robert Monch
The paddle steamer stands in front of the "big wheel" at Jardin Anglaias pier in Geneva
prior to operating her regular evening sailing 388 to Yvoire
Thursday - 7th July 2022

PS Rhône (Lake Geneva)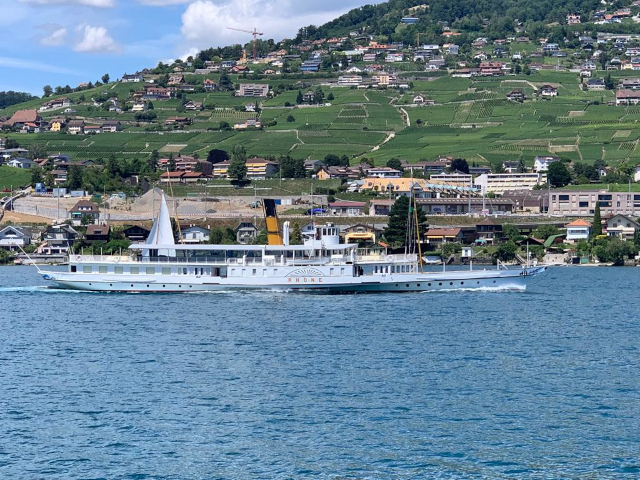 photo: François Rentsch
Following repairs, the paddle steamer undertakes a "test" sailing and is seen near Cully


STOP PRESS

Unfortunately she will NOT now return to public serevice until
"at least" Wednesday 12th July at the earliest
Sunday - 3rd July 2022

PS Concordia (Lake Como)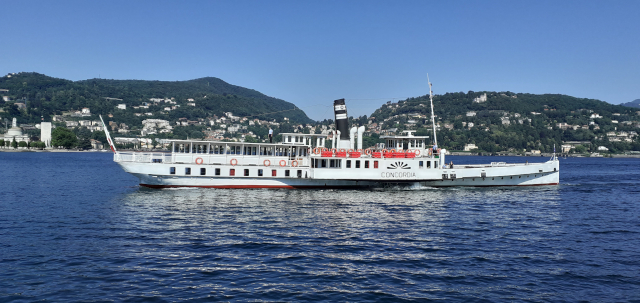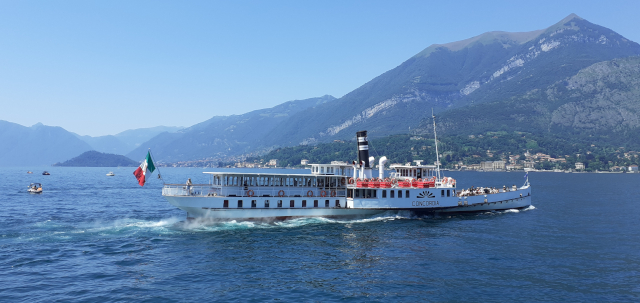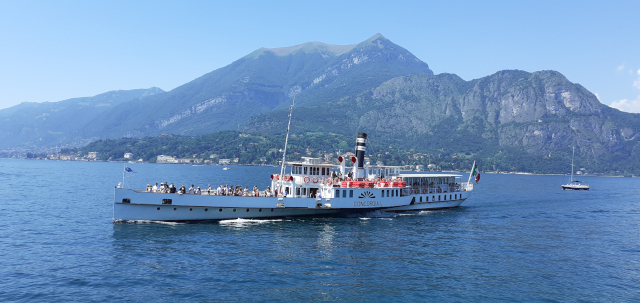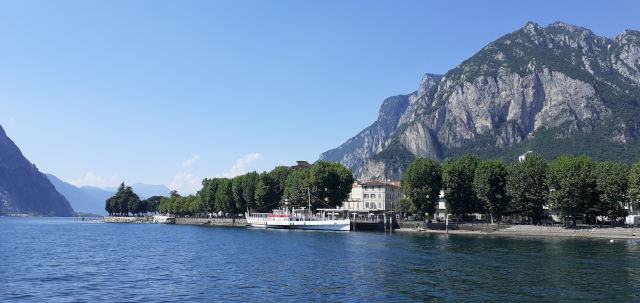 photos: Carlo Sottocasa

The paddle steamer made one of her "occasional" visits to Lecco and is seen at
Como (sailing 216) Bellagio (sailings 216 and 217) also Lecco ('special' sailing Sp-1)

A similar sailing is planned for Sunday 18th September 2022
Sunday - 3rd July 2022

PS Concordia (Lake Como)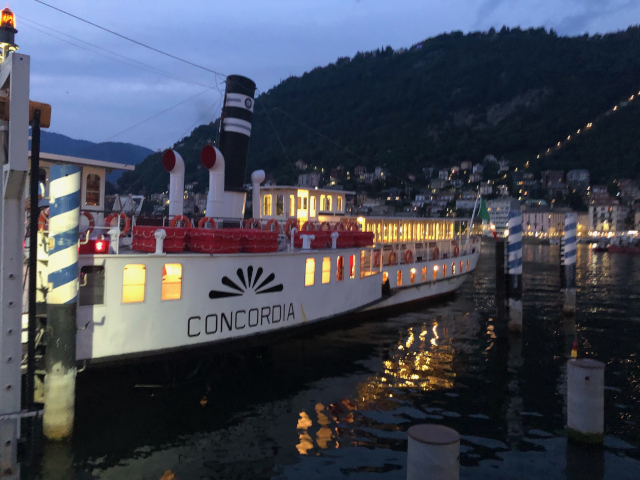 photos: Daniel Eichenberger
Further photos of the day the paddle steamer made one of her "occasional" timetabled
visits to Lecco

This time she is initially seen approaching Mandello del Lario on the Lecco branch
whilst operating the early-afternoon outward sailing 216 from Bellagio
then later having just arrived at Como after sailing 249
and about to sail back 'light' to Tavernola after a long day in service
Sunday - 3rd July 2022

PS Montreux (Lake Geneva)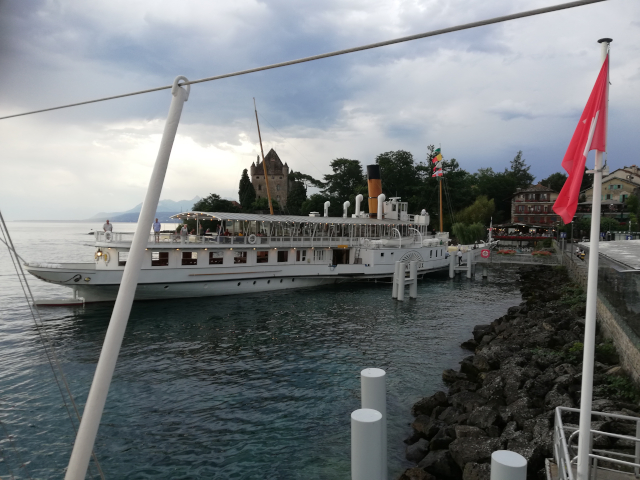 photo: Robert Monch
The paddle steamer stands at the outer berth at Yvoire before setting off back to
Lausanne on sailing 488

Every evening in the summer she provides the last "interchange" with sister
PS Savoie operating a similar from Geneva
Wednesday - 29th June 2022

PS La Suisse (Lake Geneva)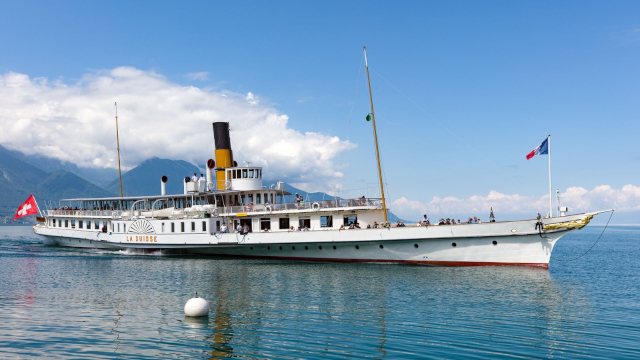 photo: Jean Vernet

The paddle steamer eventually managed to operate her much delayed first
"Timetabled sailing of 2022" from Lausanne

Unfortunately after just one "Round the Upper Lake" trip operating
sailings 200-201 on arrival back at Lausanne she was taken out of service
with further "technical problems"




She is seen approaching Montreux on return sailing 201 - at least photographic
evidence that she did actually enter service on Wednesday - even if it was for
"less than three hours" !!!!!
Saturday - 25th June 2022

PS Simplon (Lake Geneva)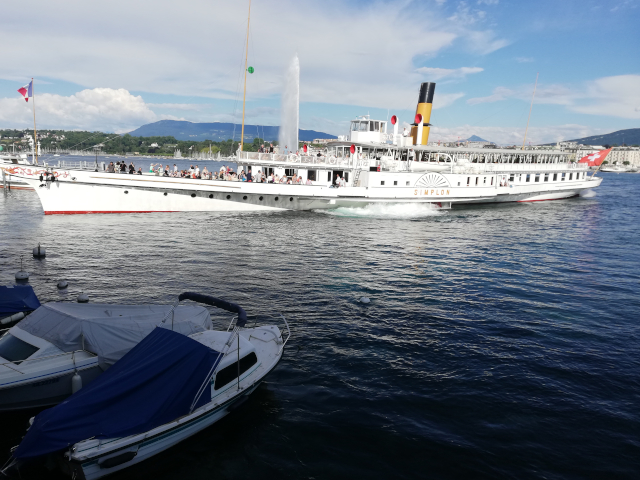 photo: Robert Monch
The paddle steamer sets off from Geneva on her short early-evening sailing 384

In previous years this only operated on Fridays as an "After Work" cruise..........
..........but from 2022 this now runs daily and includes a call at Hermance
Monday - 27th June 2022

PS La Suisse (Lake Geneva)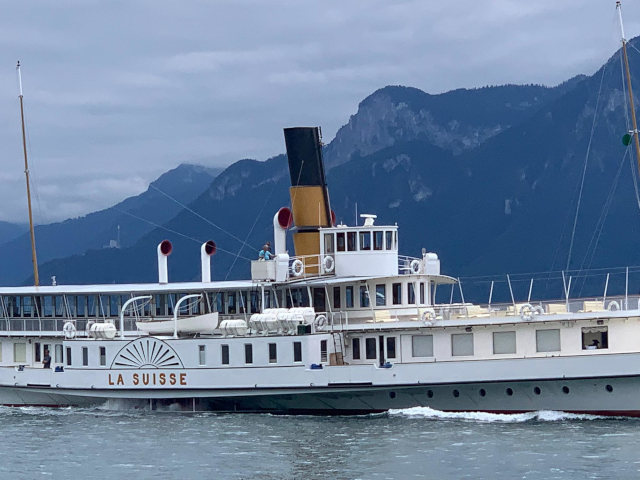 photo: François Rentsch
The paddle steamer undertakes a "test" sailing from Ouchy harbour
following attention to the overheated piston rod of her high pressure cylinder

Providing this was considered 'successful' it is hoped the paddle steamer
will be able to operate her first timetabled sailing of 2022 as early as Wednesday
(so far her only sailing this year was as part of the special Naval Parade
on Sunday 22nd May
Friday - 25th June 2022

PS Unterwalden (Lake Geneva)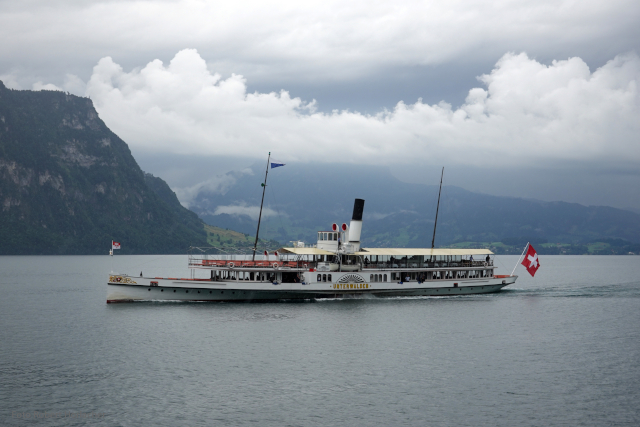 photo: Robert Horlacher
The paddle steamer passes Burgenstock on her afternoon sailing 21 from Luzern to Flüelen
as seen from passing PS Uri
Tuesday - 21st June 2022

PSs Montreux and Simplon (Lake Geneva)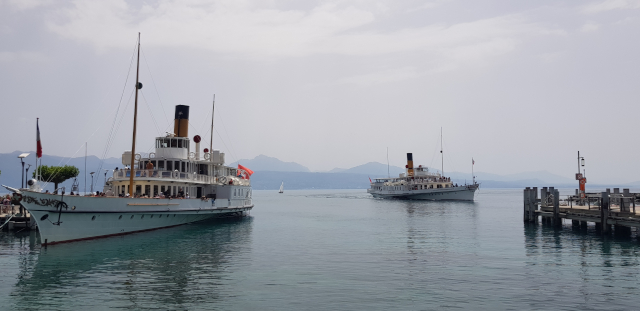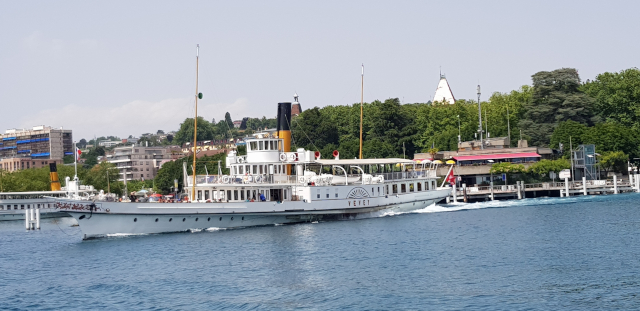 photos: Alain Vuistiner

PS Montreux (left) waits for the arrival of PS Simplon from Geneva before setting off on
her afternoon sailings 204-205 from Lausanne anti-clockwise round the Upper Lake
from which MPV Vevey could be seen setting off on sailing 806 to Vevey
Sunday - 19th June 2022

PS Montreux (Lake Geneva)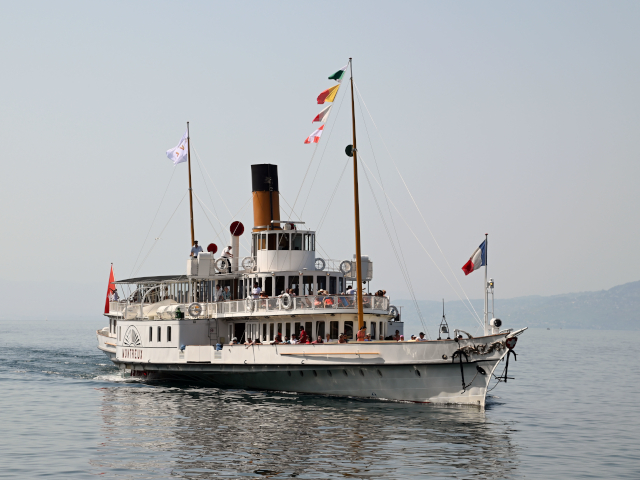 photo: Robert Horlacher
On the first day of the summer timetable..........
..........the oldest operational paddle steamer on the lake approaches Le Bouveret
on the return leg of her first public sailing 205 from Lausanne to the Upper Lake
Saturday - 18th June 2022

PS Blümlisalp (Lake Thun)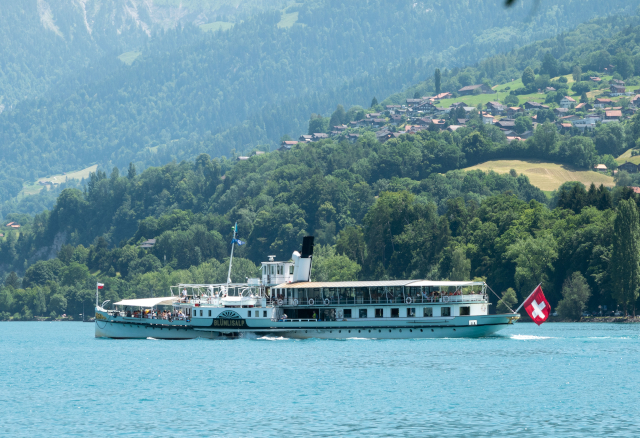 photo: Lukas Bruckner
The paddle steamer heads across the lake to Merligen having just called at Faulensee
on her morning sailing 15 from Thun to Interlaken in bright sunshine
Saturday - 18th May 2022

PS Stadt Luzern (Lake Luzern)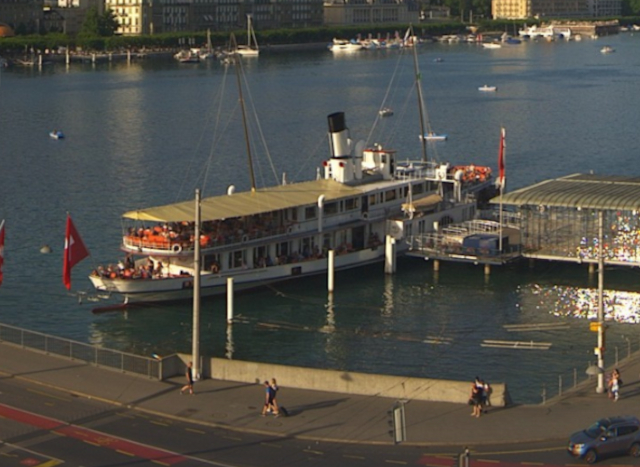 picture: Luzern webcam
The sun is dropping fast as the largest paddle steamer loads at Pier No.1 Luzern
for the "Sunset Cruise" sailing 33 to Beckenried
Thursday - 16th May 2022

PS Rhône (Lake Geneva)

<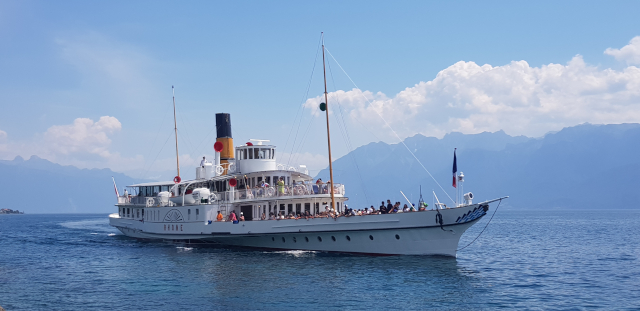 photo: Alain Vuistiner
The paddle steamer approaches Lutry her lunchtime sailing 825 back to Lausanne

This was her last day in public service during the Spring 2022 timetable period
as she had private charters on the next two days
Wednesday - 15th June 2022

MPV Italie and PS Rhône (Lake Geneva)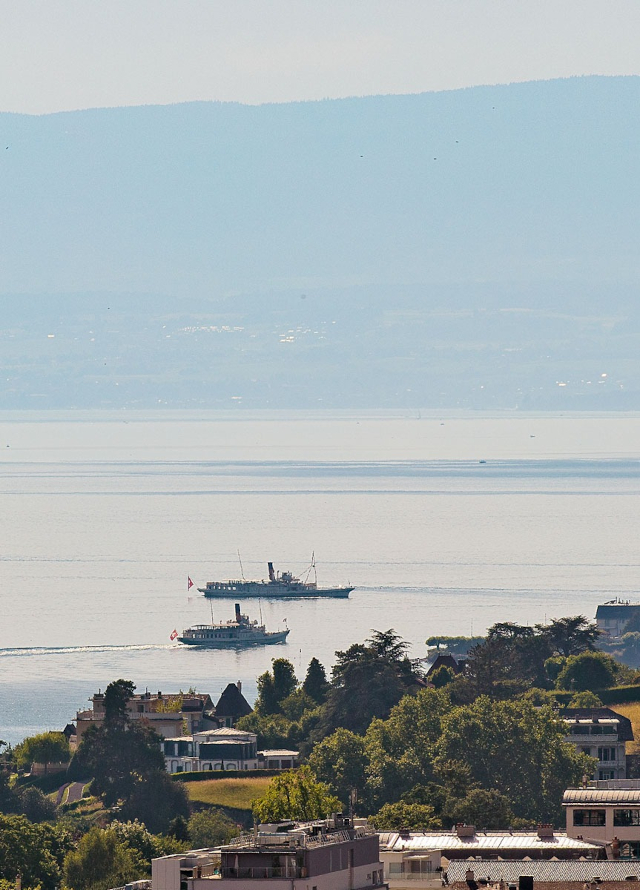 photo: Jean Vernet
The motor paddle vessel is seen near Vevey on her last sailing 907 of the day
from the Upper lake back to Lausanne
She is joined by PS Rhône on a charter sailing
Sunday - 12th June 2022

PS Stadt Zürich (Lake Zurich)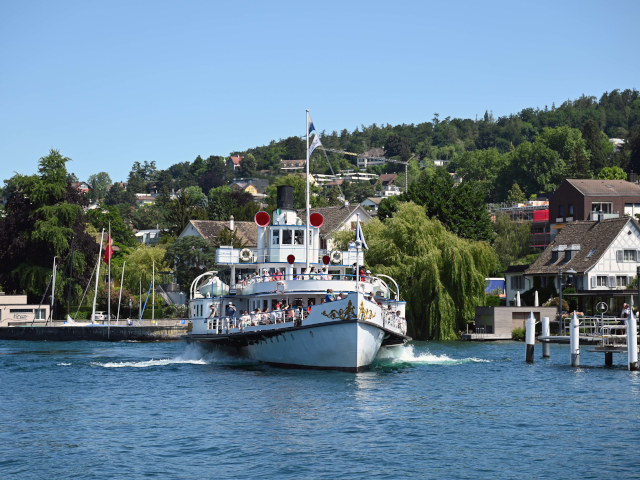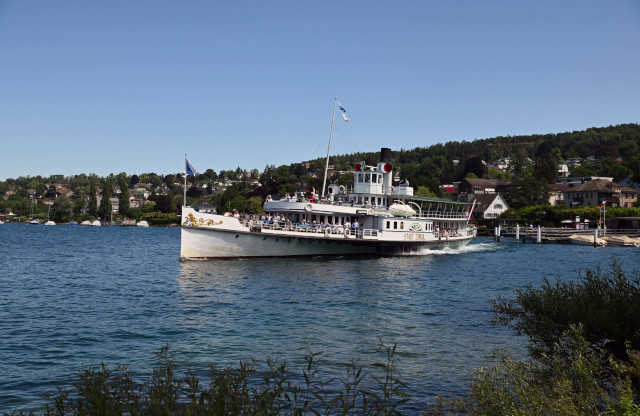 photos: Robert Horlacher
The paddle steamer operated the mid-morning sailing 105 from Zurich to Rappersil
and is seen arriving then departing Küsnacht
Friday - 10th June 2022

PS Gallia (Lake Luzern)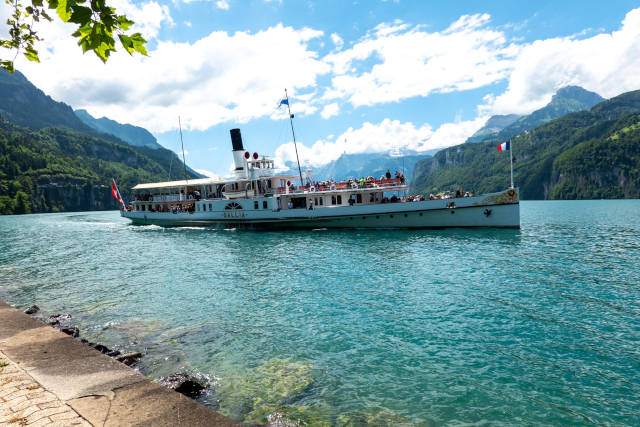 photo: Lukas Bruckner
The paddle steamer covered for her sister on the morning sailings 7-18 and is seen
swinging round to Brunnen in bright sunshine on the return leg from Flüelen to Luzern
Tuesday - 7th June 2022

PS Stadt Rapperswil (Lake Zurich)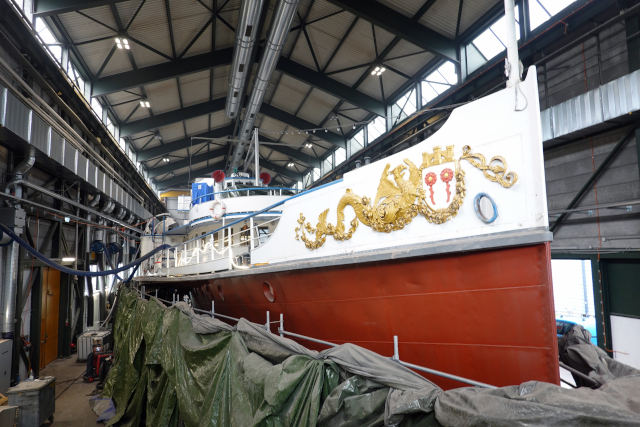 photo: Robert Horlacher
Painting of the "below the water" section of the paddle steamer is now well underway
in the covered drydock at Wollishofen

After completion of her major overhaul she is planned to return to service
in time for the 2023 season
Sunday - 5th June 2022

PS Simplon (Lake Geneva)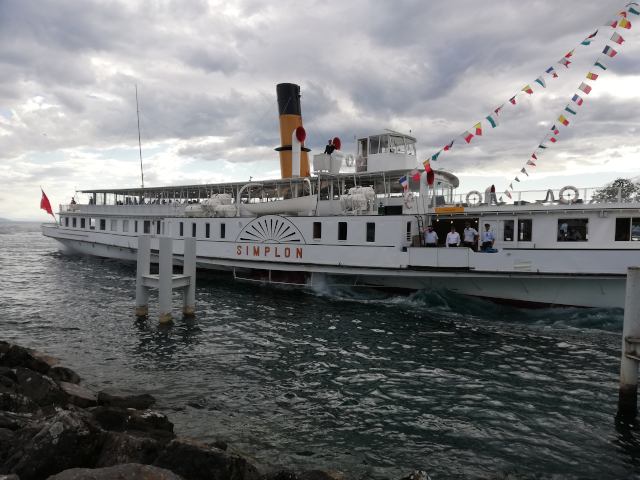 photo: Robert Monch
Complete with flags flying, the paddle steamer
sets off from Lausanne for a charter sailing on the lake
Thursday - 28th May 2022

PS Blümlisalp (Lake Thun)



photo: Harold Blythe
The paddle steamer has just departed Oberhofen pier
on her daily sailing 15 from Thun to Interlaken
Tuesday - 26th May 2022

PS Blümlisalp (Lake Thun)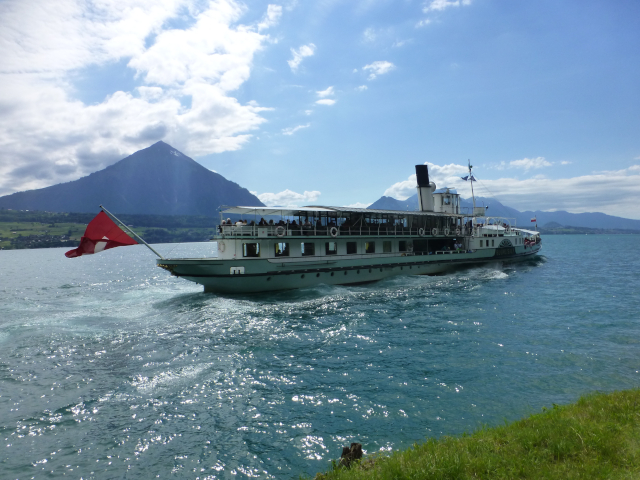 photo: Leila Blythe
The paddle steamer sails close to the shore as she heads towards Merlingen whilst
operating afternoon sailing 16 before crossing the lake to Spiez and returning to Thun
The destinctive pyramid shape of the Niesen can be seen in the background
Whit Sunday - 5th June 2022

PS Concordia (Lake Como)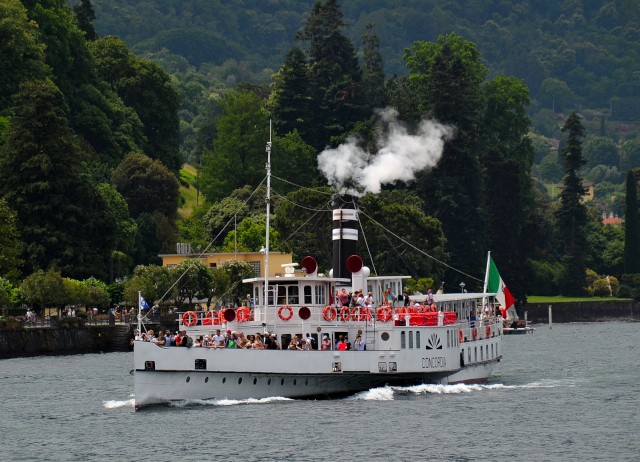 photo: Jacopo Memeo
The paddle steamer nears Bellagio on sailing 216 where most of her passengers
will alight for a 'two-hour lunch break' ahore
before she continues to Lecco to meet a steam train which started at Milan
Wednesday - 1st June 2022

MPV Italia (Lake Garda)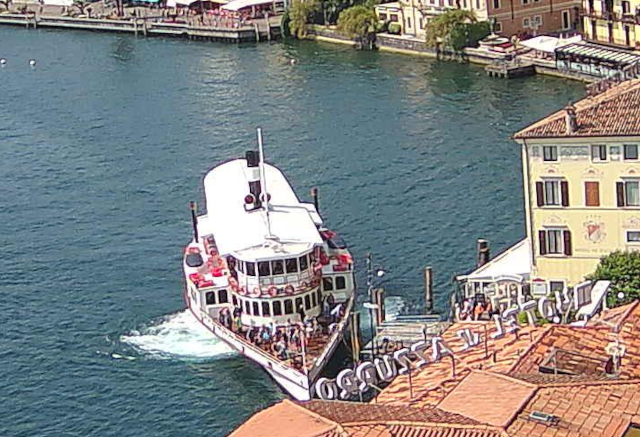 picture: Limone webcam
It's "full astern" as the motor paddle vessel arrives at Limone for the first time in 2022
on sailing 72 from Malcasine to Riva
Wednesday - 1st June 2022

MPV Italie (Lake Geneva)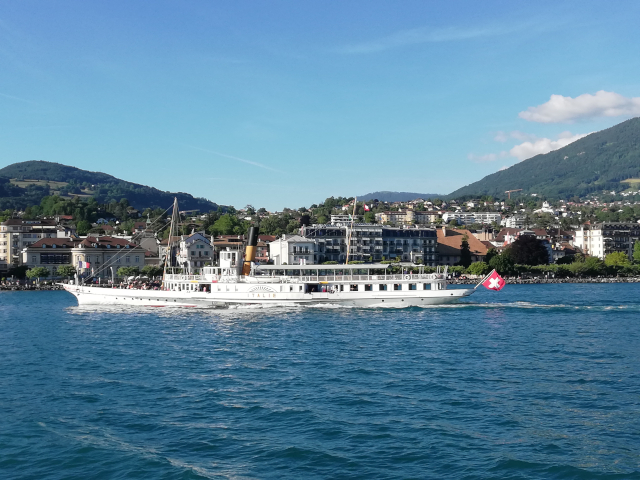 photo: Robert Monch
The motor paddle vessel is seen near Cully on her last sailing 907 of the day
heading back to Lausanne

She is seen from PS Simplon on a sunny evening sailing to Montreux
Ascension Thursday - 26th May 2022

PS Lötschberg (Lake Brienz)



picture: Bônigen webcam
The paddle steamer sets off from Bönigen on her first sailing 63 of the season
from Interlaken to Brienz
Do you want to know what every paddle steamer in service
is expected to do on a day-by day basis throughout 2022 ?
Then click here to find out
(information is being added/updated as and when advised to me)

Please e-mail me if you are aware of any errors or updates
so they can be corrected for the benefit of other visitors to this website