Saturday - 11th March 2023

ex-PS Wilhelm Tell (Lake Luzern)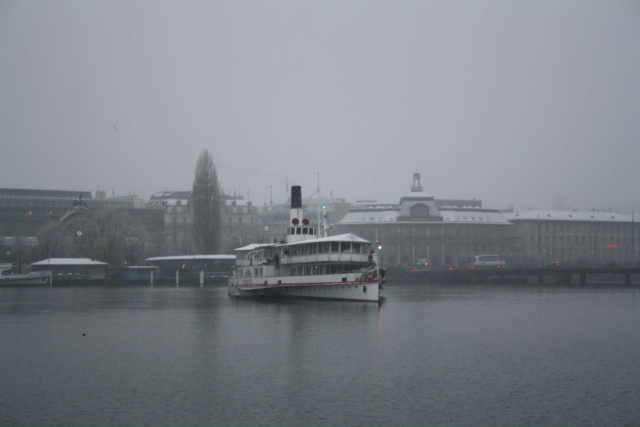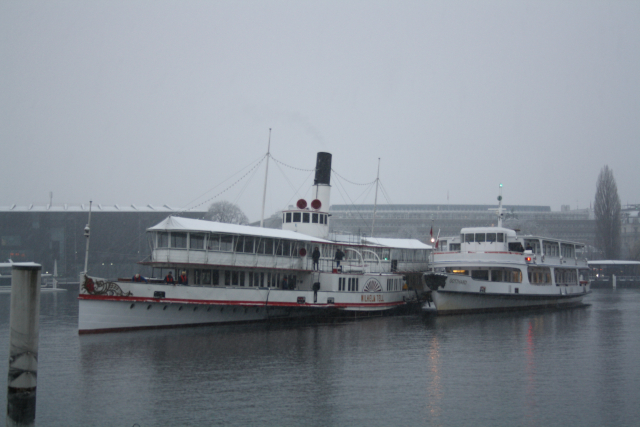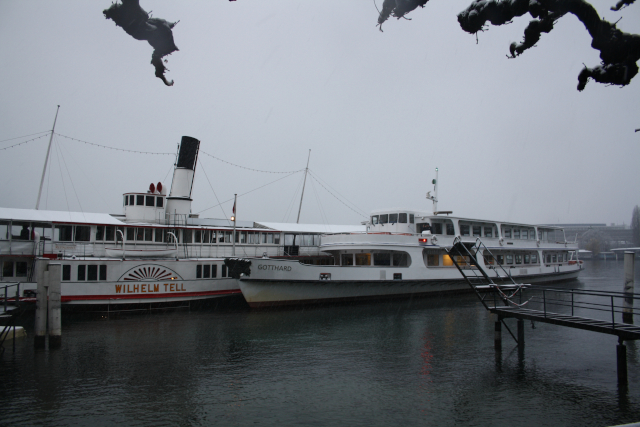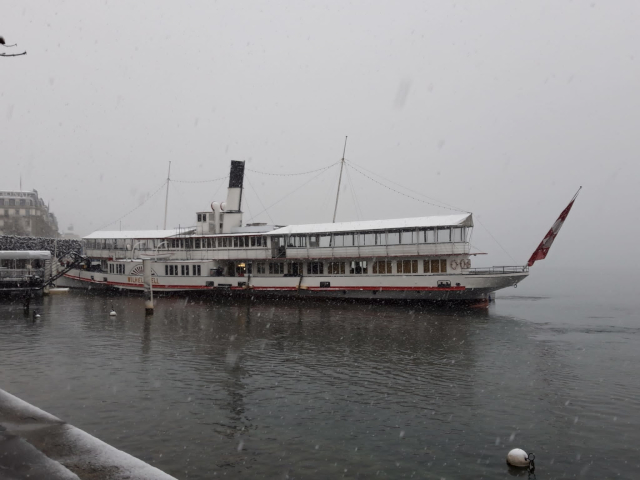 photos: Hans Eichenberger
The former paddle steamer "sails" acoss the lake from the SGV Dock to the
Schweizerhofquai Pier No.9 to return to her normal static restaurant duties

Look on the port side and it is essy to see how she did it without her engine !!!

Sunday - 19th March 2023

MPV Vevey (Lake Geneva)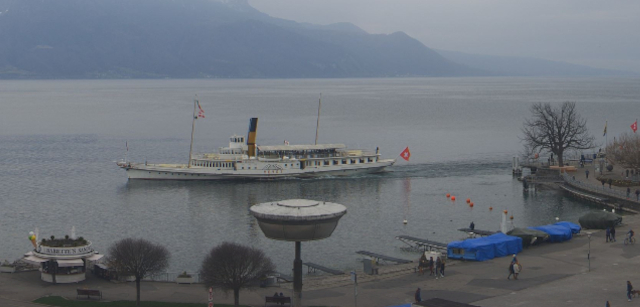 picture: Vevey webcam
MPV Vevey sets off from Vevey on her weekly winter Sunday Lunch Cruise
sailing 534 round the "Upper Lake"

Sunday - 12th March 2023

MPV Italie (Lake Geneva)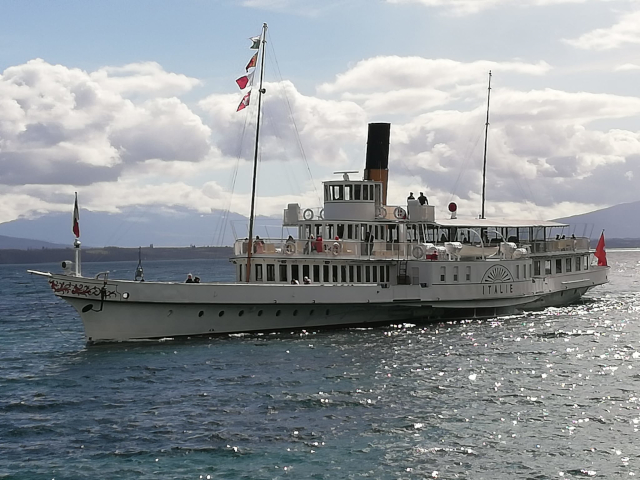 photo: Robert Monch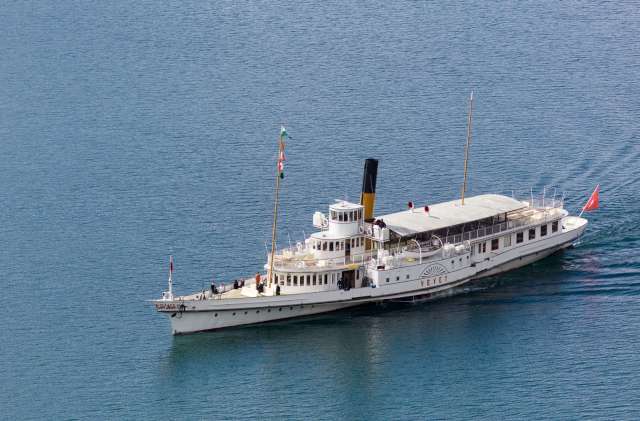 photo: Jean Vernet
The MPV Italie arrives at Nyon on her weekly sailing 330 from Geneva
whilst at the other end of the lake MPV Vevey arrives at Montreux on her weekly
"Upper Lake Circle Lunch Cruise" sailing 534 from Le Bouveret and Vevey
Friday - 10th March 2023

SIX Paddle Steamers (Lake Luzern)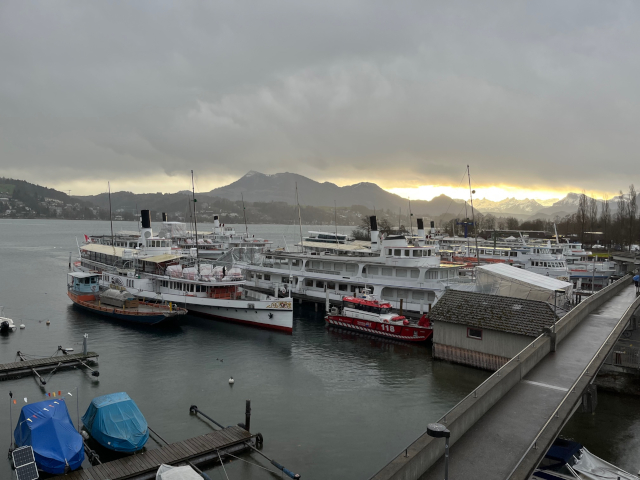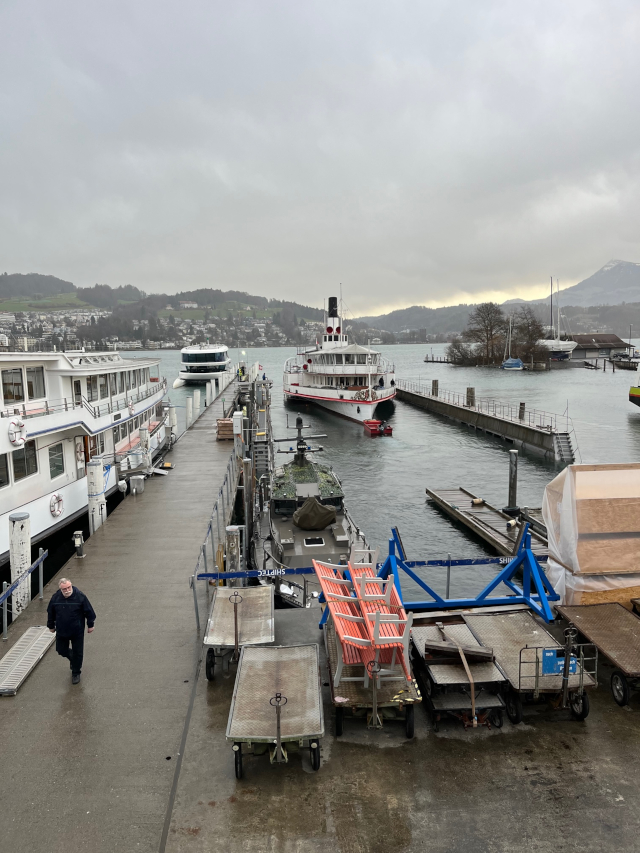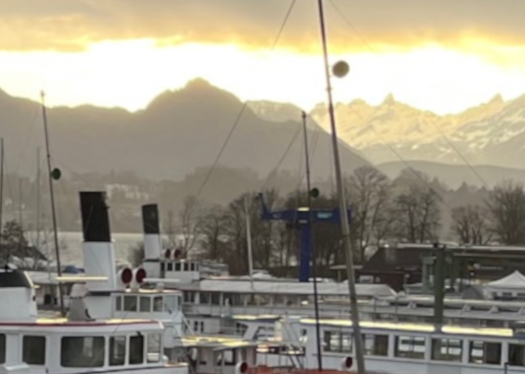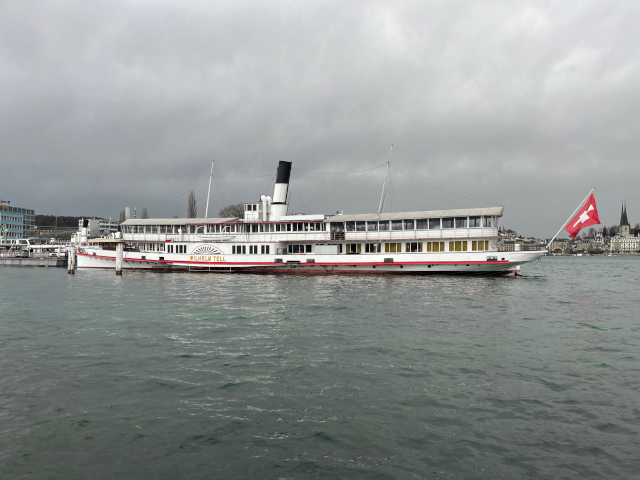 photos: Daniel Eichenberger

Memories of 1970

SIX paddle steamers (count the funnels to be sure !) stand at Luzern dock on a
wet and windy, winter Friday

The former SGV ship PS Wilhelm, Tell had made a rare visit to the floating dock for
under-water hull repairs and was waiting for the wind to drop so she could sail across the
to the Schweizerhofquai

Sunday - 5th March 2023

MPV Vevey (Lake Geneva)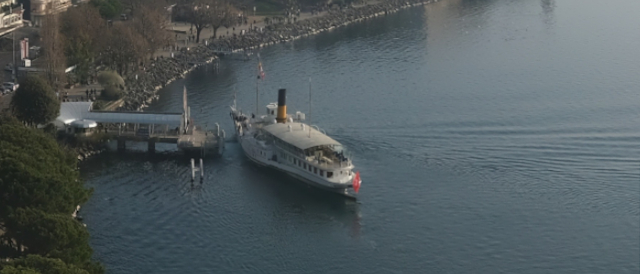 picture: Montreux webcam
MPV Vevey glides towards Montreux pier as she heads for home
(Le Bouveret) on the final sailing 538 of the day

Despite the poor weather and no catering - due to a change of caterer - it was
good to see the motor paddle vessel operating the Winter "Upper Lake" service

Friday - 17th February 2023

MPV Italie (Lake Geneva)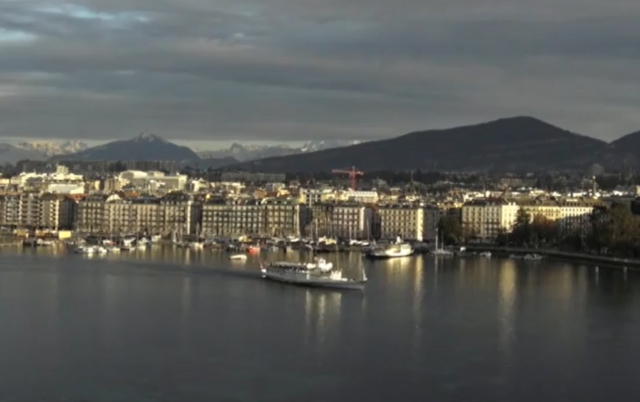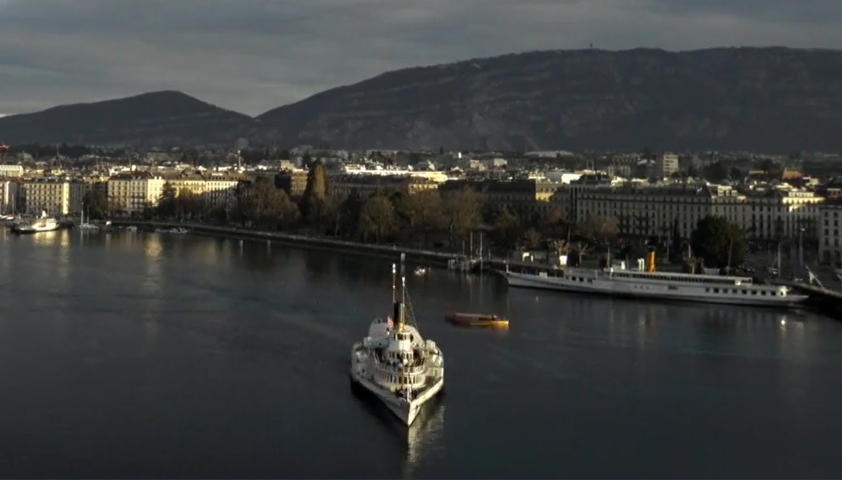 pictures: Geneva webcam
The motor paddle vessel swings round to Geneva Mont Blanc pier as she returns to
Geneva at the end of her second short afternoon cruise sailing 740

The large MPV Helvétie can be seen behind - moored at Jardin Anglais pier adjacent
to the bridge and the small former ex-CGN MPV Genève can also be seen
Sunday - 12th February 2023

PS Rhône (Lake Geneva)

Last Day of "Winter Sunday steam"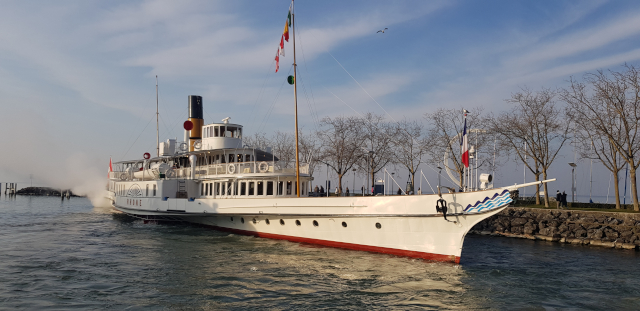 photo: Alain Vuistiner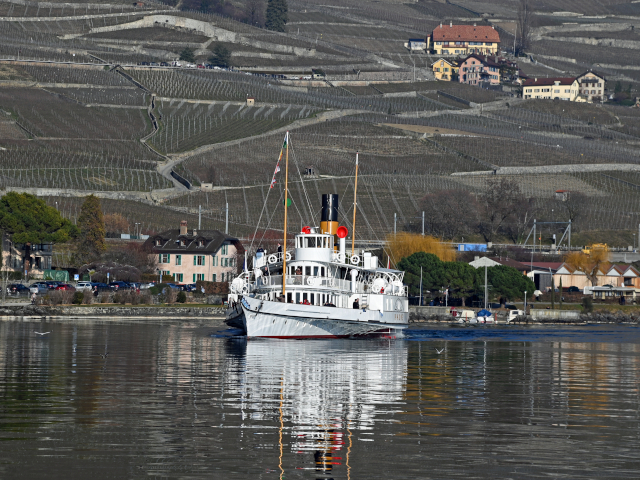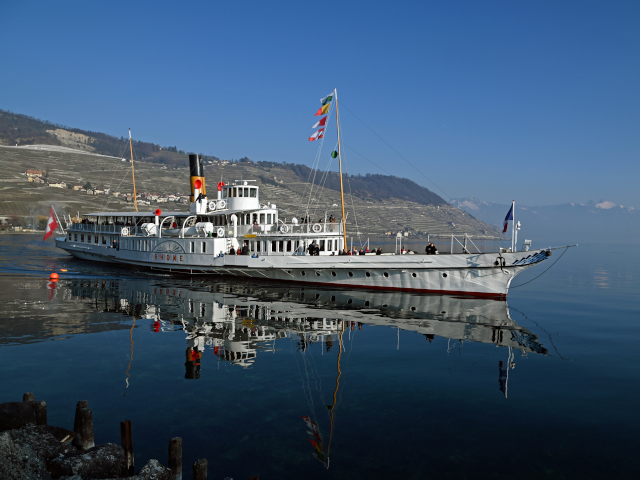 photos: Robert Horlacher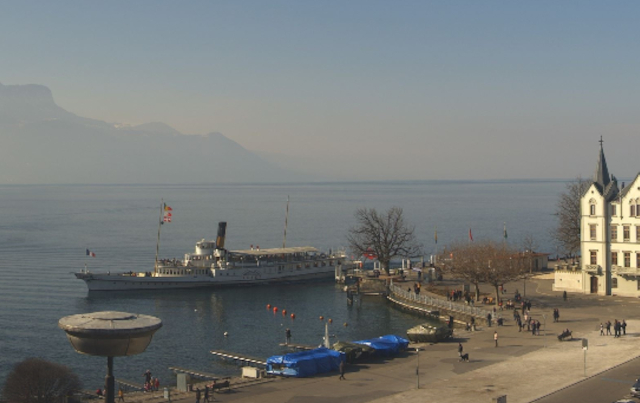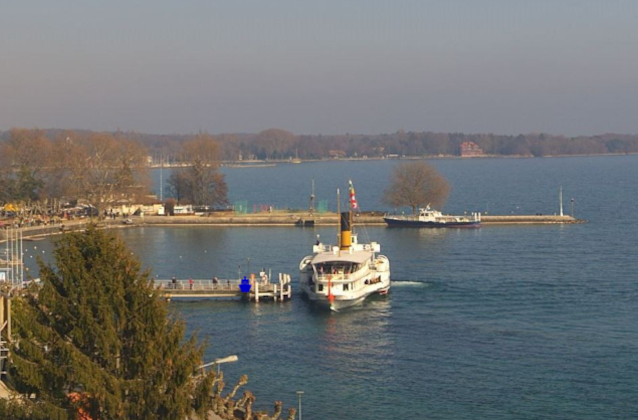 pictures: Vevey and Nyon webcams

The paddle steamer raises steam at Lausanne prior to the first sailing 1107
of the day to Evian-les-Bains..........
..........then later approaching Cully on her final winter sailing 931 from
Villenue back to Lausanne

To add to the interest on the day both MPV Vevey and MPV Italie were also
in service operating the Le Bouveret and Geneva based rosters respectively

Friday - 10th February 2023

PS Rhône (Lake Geneva)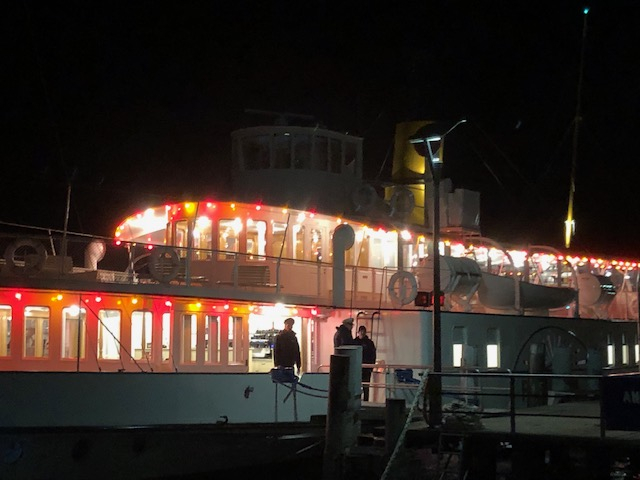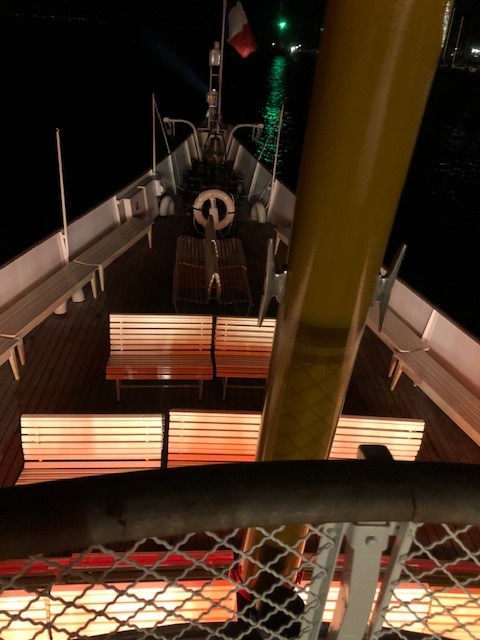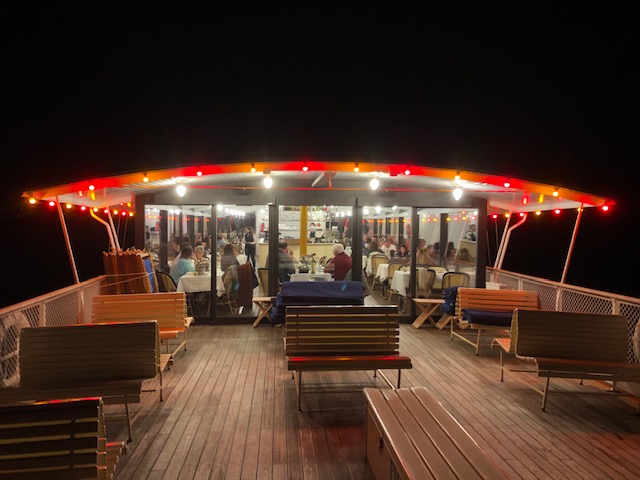 photos: Daniel Funk
The paddle steamer unusually covered the weekly Friday evening Fondue Cruise
sailings 491-492-493-404 from Lausanne and Morges vice the regular motor vessel
Sunday - 5th February 2023

PS Rhône (Lake Geneva)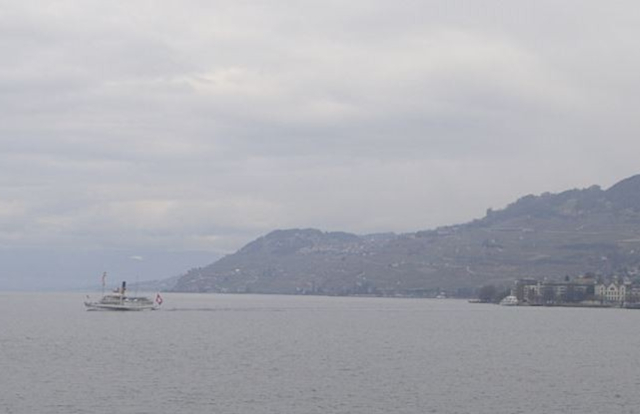 picture: La Tour de Peilz webcam
The paddle steamer has just departed Vevey and heads across the bay on her
pen-ultimate weekly winter sailings 930 from Lausanne to Villeneuve
In the distance mv Henry-Dunant has followed her into the pier
whilst operating the Uppere Lake Circle cruises
Sunday - 29th January 2023

MPV Italie (Lake Geneva)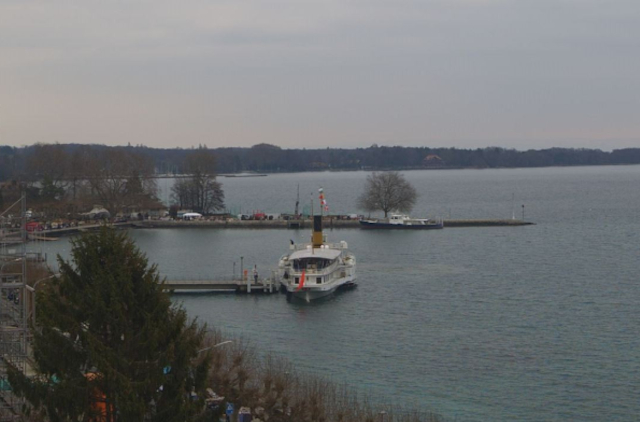 picture: Nyon webcam
Following her breakdown after completing her booked sailings on Christmas Day
the motor paddle vessel returned to service on Sunday 29th January and operated
the delayed first public sailing from Geneva of 2023

She is seen arriving at Nyon at the end of her first sailing 330 from Geneva
Sunday - 22nd January 2023

PS Rhône (Lake Geneva)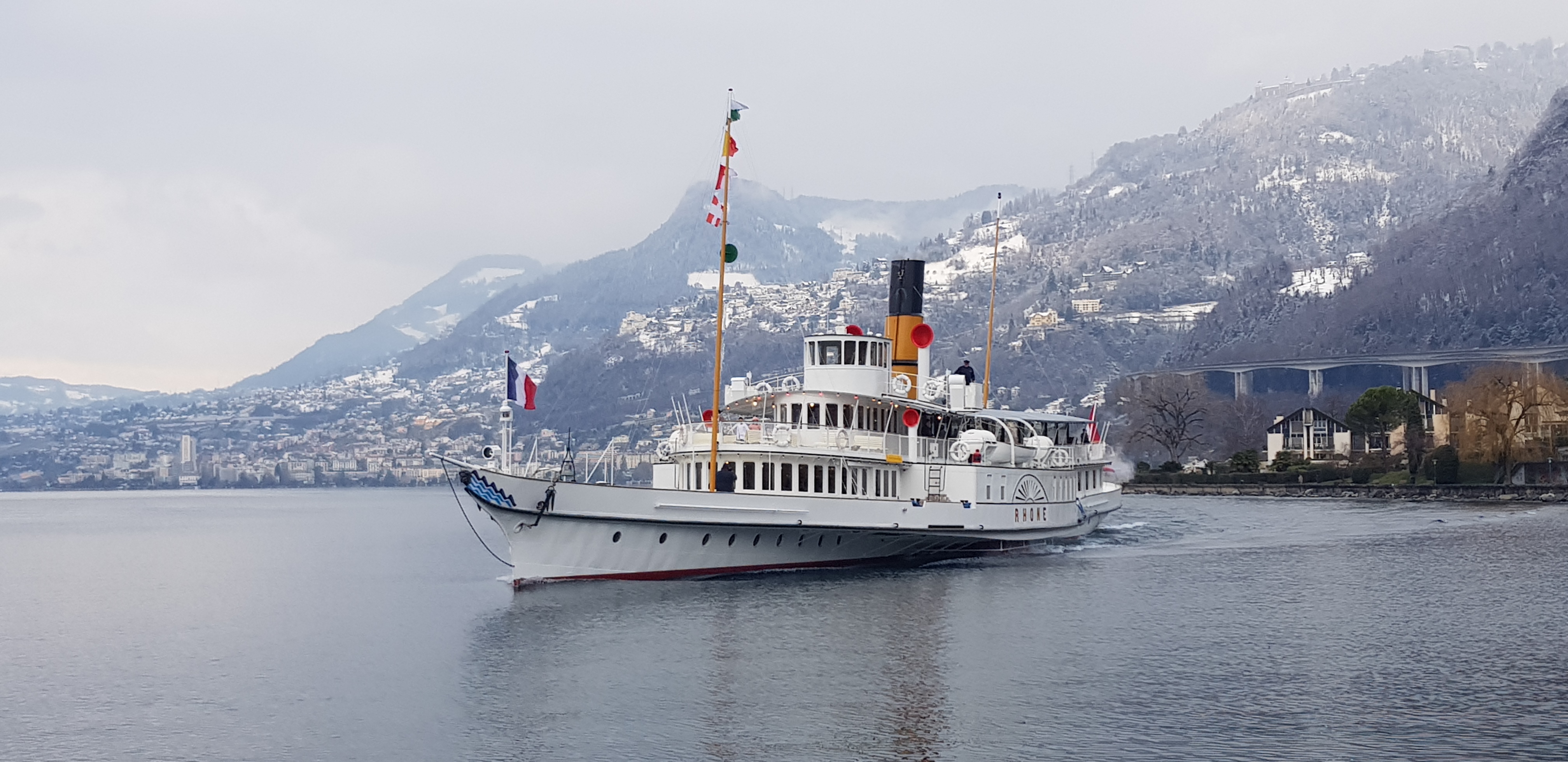 photo: Alain Vuistiner
After missing the previous week due to gales, the paddle steamer was back
in action and is seen approaching the end of the lake at Villeneuve
on her outward lunchtime sailing 930 from Lausanne
Sunday - 15th January 2023

A "wet and windy Winter Sunday" (Lake Geneva)

What's missing ? --- sorry no prize for guessing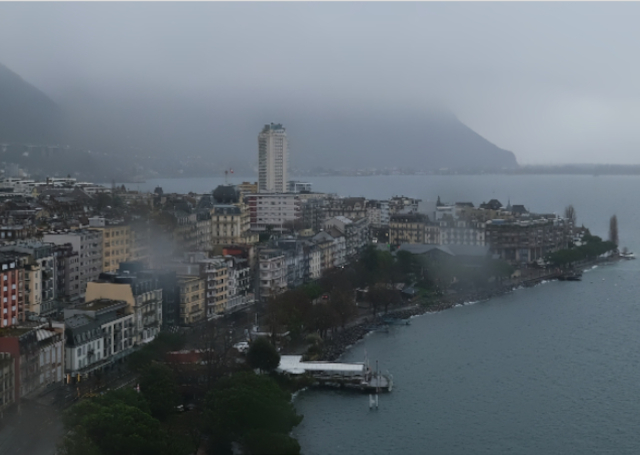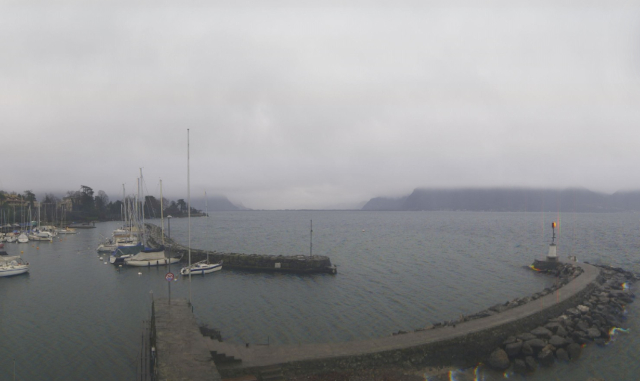 Take you pick - no paddle steamer or no mountains peaks

The weekly lunchtime sailings 930-931 advertised for PS Rhône were cancelled
It is understood a motor vessel covered her first two ferry round trips
from Lausanne to Evian-les-Bains

Can you confirm and if so, say which one ?
Friday - 13th January 2023

PS Rhône (Lake Geneva)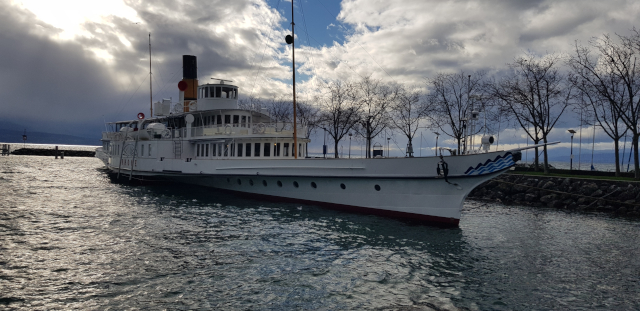 photo: Alain Vuistiner
The paddle steamer stands at Lausanne pier between her weekly winter
'Sundays only' sailings to Evian-les-Bains and Villeneuve
Sunday 8th January 2023

PS Rhône (Lake Geneva)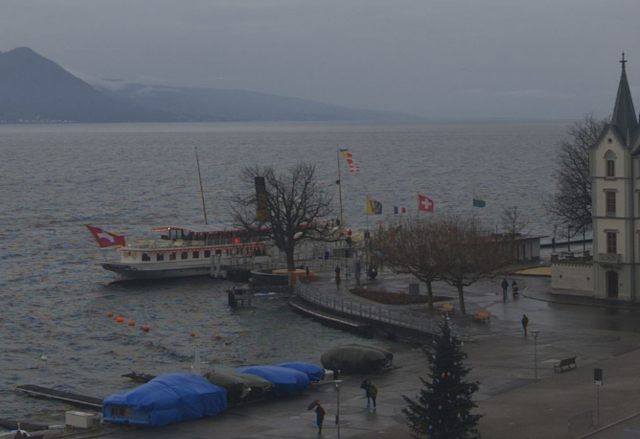 picture: Vevey webcam
The only paddle steamer currently in service on any Swiss or Italian lake
arrives at Vevey Marché pier on return sailing 931 from Villeneuve
back to Lausanne on a very wet and windy winter Sunday afternoon
Monday 2nd January 2023

PS Blümlisalp (Lake Thun)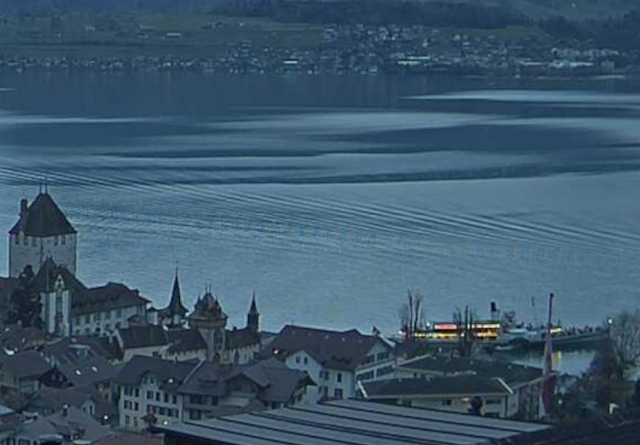 picture: Oberhofen webcam
The paddle steamer approaches Oberhofen for the final time during her
special "Nine Days of Christmas" mid-winter outings
on her return sailing 16 from Interlaken back to Thun

New Year's Day - Sunday 1st January 2023

PS Rhône (Lake Geneva)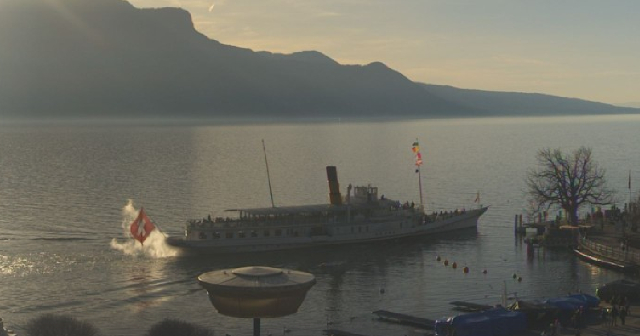 picture: Vevey webcam
The paddle steamer approaches Vevey on return sailing 931 from Villeneuve
back to Lausanne on her first visit of 2023 to the Upper Lake
New Year's Eve - Saturday 31st December 2022

PS Blümlisalp (Lake Thun)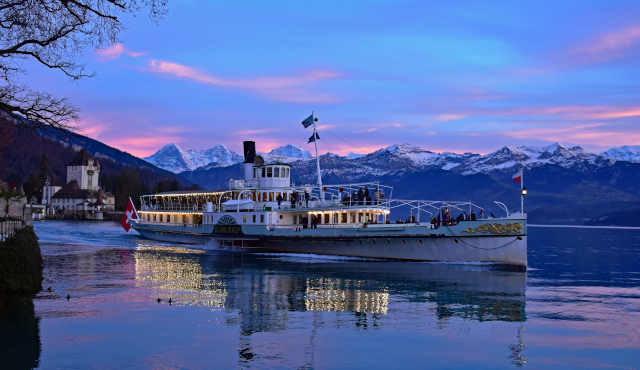 photo: Ernst Mischler
The paddle steamer approaches Oberhofen for the final time in 2022 on her
return sailing 16 from Interlaken back to Thun
Wednesday 28th December 2022

PS Blümlisalp (Lake Thun)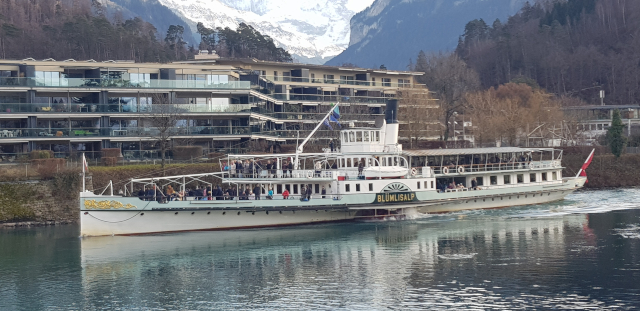 photo: Alain Vuistiner
The paddle steamer approaches Interlaken with her mast lowered at the end of her
outward sailing 15 from Thun having passed under the bridge on the aproach
Christmas Day - Sunday 25th December 2022

MPV Italie (Lake Geneva)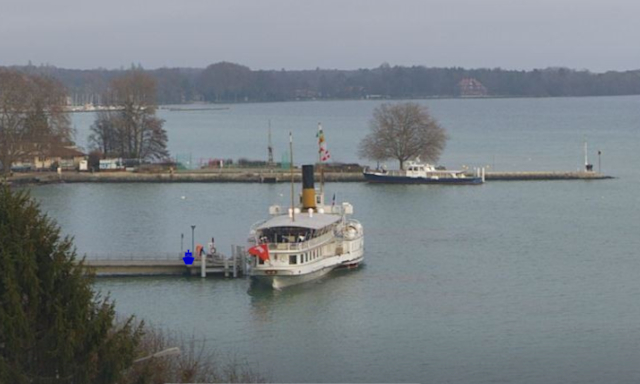 picture: Nyon webcam

The paddle steamer calls at Nyon pier on her return Christmas Day sailing 331
back to Geneva

After completing her day's sailing a technical fault was discovered which
subsequently resulted in all her sailings up to Sunday 8th January 2023
(INCLUSIVE) at least being CANCELLED
(alternative weekend sailings are available from Lausanne)

Christmas Day - Sunday 25th December 2022

PS Rhône (Lake Geneva)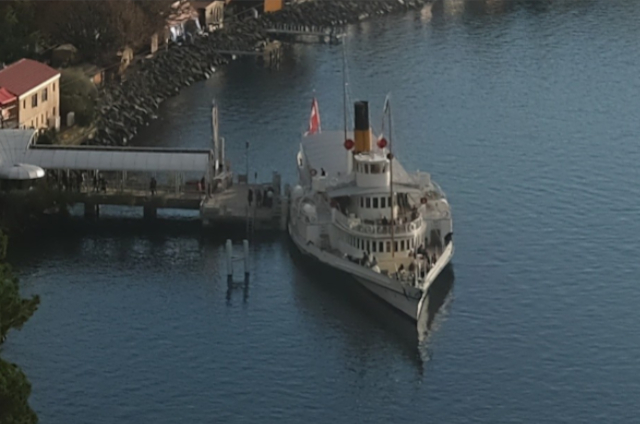 picture: Montreux webcam
The paddle steamer calls at Montreux pier on her return Christmas Day sailing 931
from Villeneuve back to Lausanne
Christmas Day - Sunday 25th December 2022

PS Blümlisalp (Lake Thun)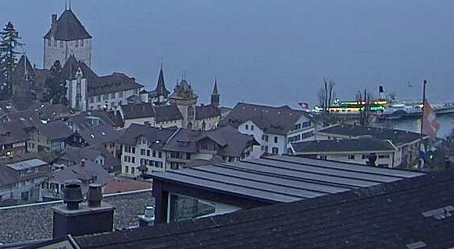 picture: Oberhofen webcam
The paddle steamer returned to service on Christmas Day
and is seen with her lights on at Oberhofen whilst operating her
return sailing 16 from Interlaken back to Thun as the light fades
Sunday - 18th December 2022

PS Rhône (Lake Geneva)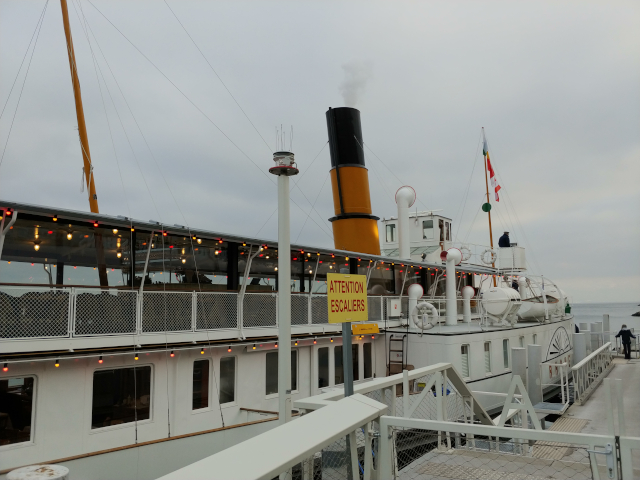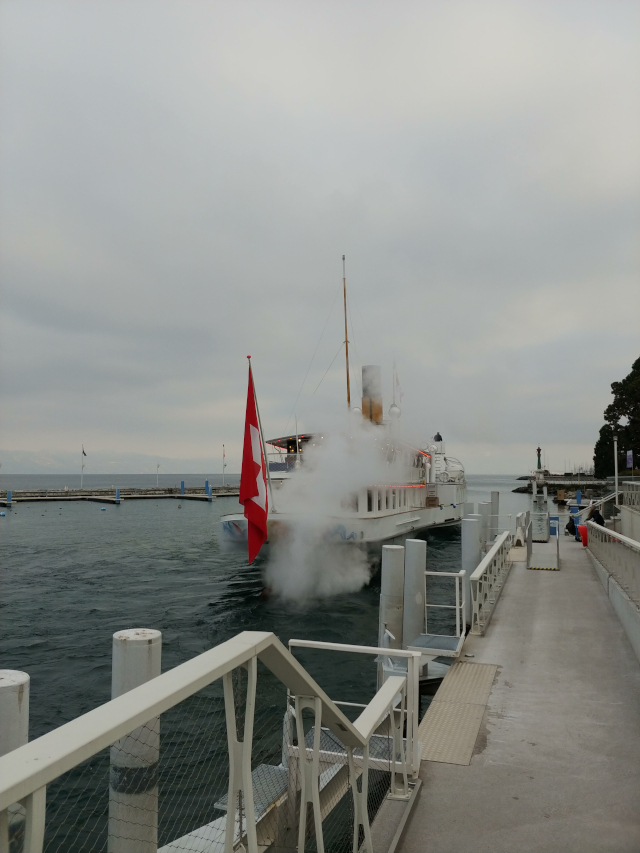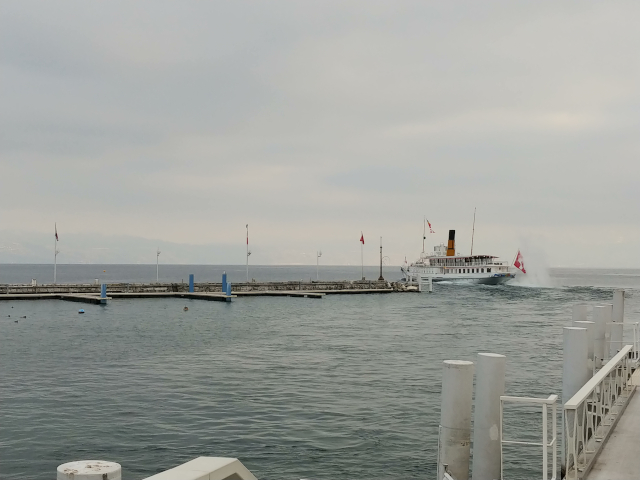 photos: Nicolas Lars Carrel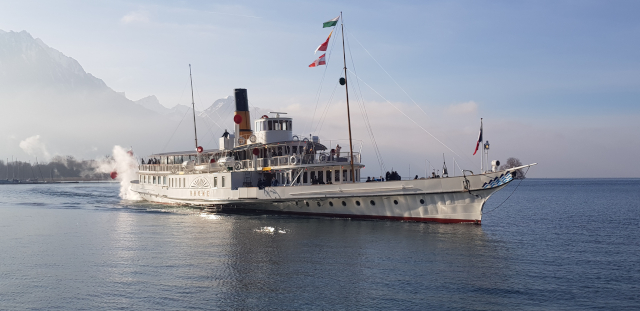 photo: Alain Vuistiner
The paddle steamer stands at Lausanne pier prior to her first ferry sailing 1107
to Evian, then calling at the French port before leaving the harbour on her way
back to Switzerland on sailing 1108

She is later seen arriving at Villeneuve at the end of sailing 930
Sunday - 18th December 2022

PS Uri (Lake Luzern)




picture: Luzern webcam
The paddle steamer returns to Luzern at the end of her final brunch cruise of 2022
Sunday - 11th December 2022

PS Concordia (Lake Como)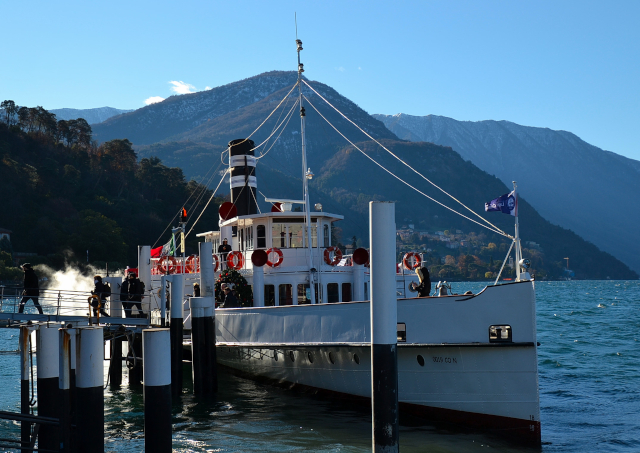 photo: Jacopo Memeo
Some passengers alight off the paddle steamer at Bellagio
on her outward winter special sailing from Como to Lecco
Sunday - 11th December 2022

PS Rhône (Lake Geneva)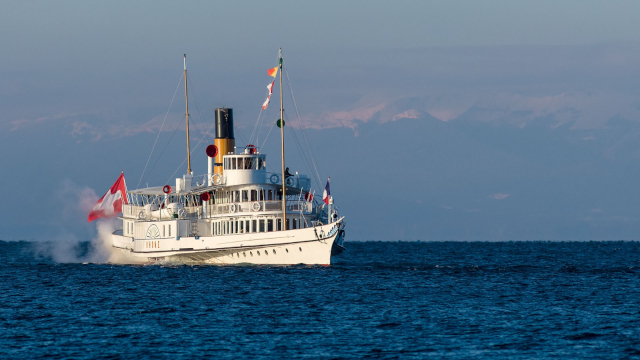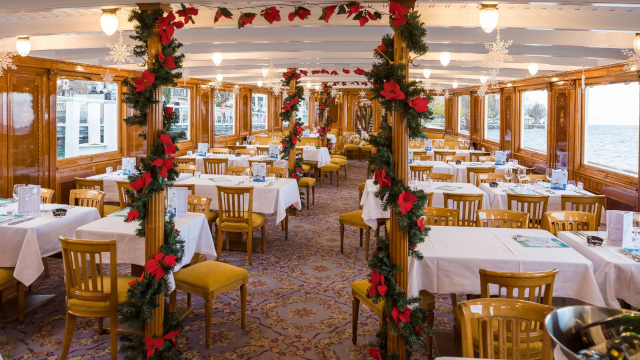 photo: Jean Vernet
The paddle steamer returns to Lausanne from Evian-les-Bains at the end of her
first international ferry sailing 1108 of the day

On arrival she was taken out of service due to a technical problem
which was quickly repaired enabling her to later operate her booked
lunchtime sailing 930 to Villeneuve
Sunday - 4th December 2022

PS Concordia (Lake Como)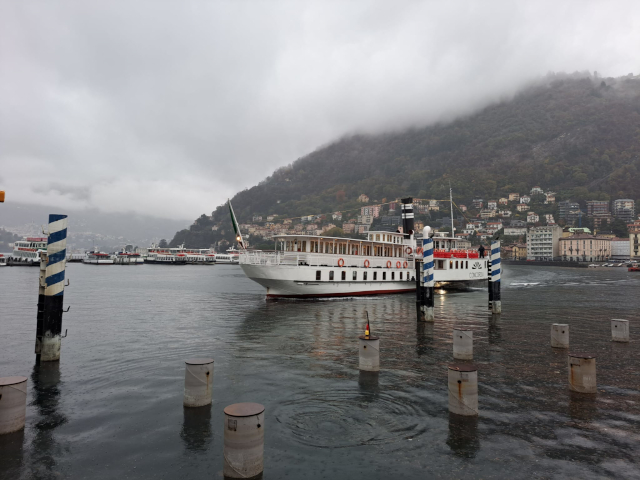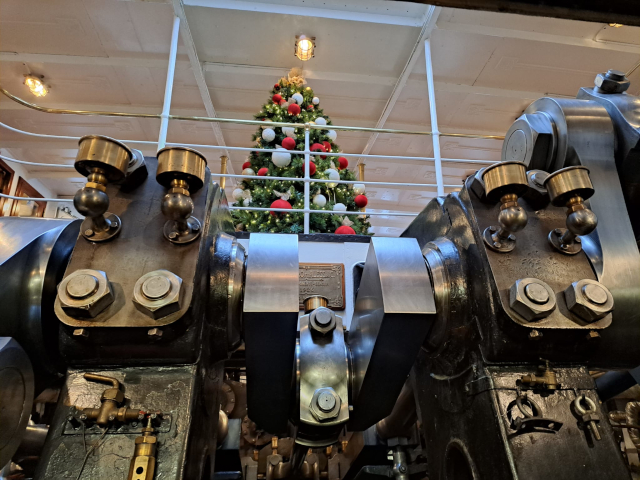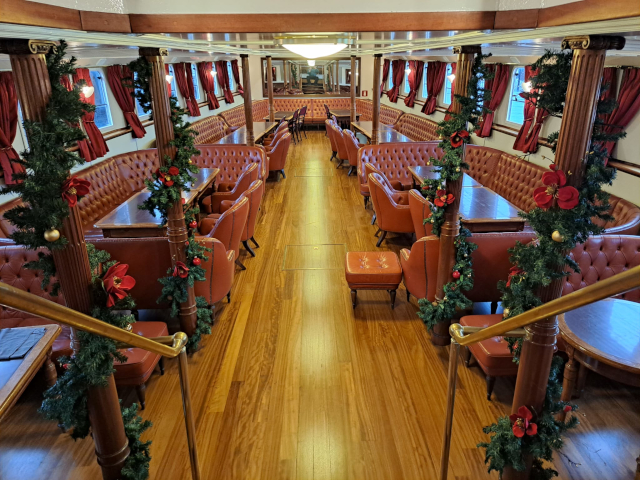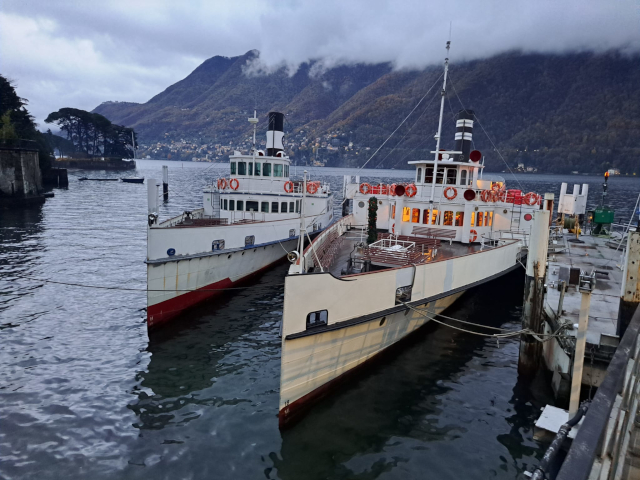 photos: Andreas Hofer

It appears the paddle steamer broke down on her special outward sailing
(probably near Cernobbio) on Sunday 4th December
where it is understood her passengers ultimately had to alight
before she returned "light" to dock for repairs

Were YOU there ?
Do YOU know what actually happened ?
Someone must have sailed on her !

If so, please email me and I will post the information for the
benefit of the other visitors to this website


Sunday - 4th December 2022

PS Rhône (Lake Geneva)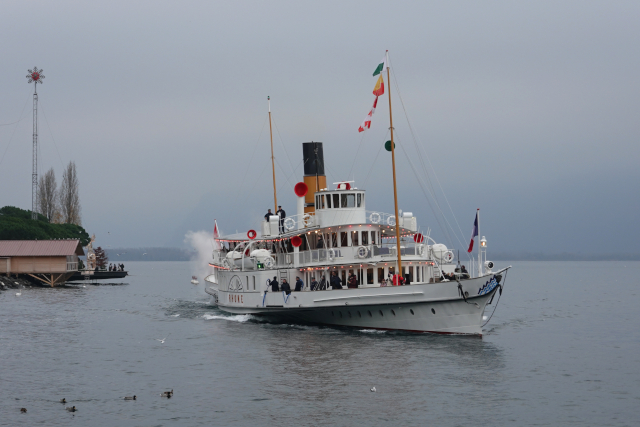 photo: Robert Horlacher
The paddle steamer approaches Montreux on her retuen afternoon sailing 931
from Villenuve to Lausanne on a freeezing cold winter Sunday
Sunday - 27th November 2022
PS Uri (Lake Luzern)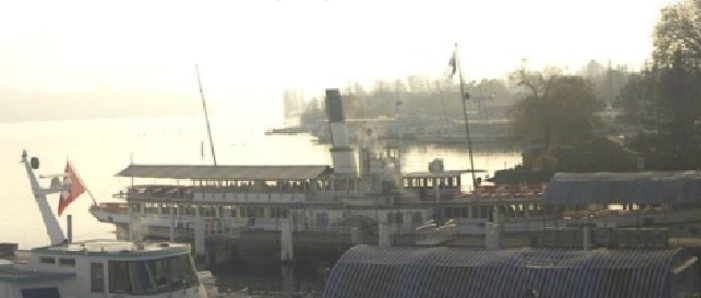 pictures: Luzern webcam

The paddle steamer operated her first Advent Brunch Cruise
from Luzern on Sunday 27th November

2022 was a change, as during previous year a later "lunch" cruise was operated instead

Friday - 11th November 2022

PS Rhône (Lake Geneva)

FURTHER MID-WINTER INTERNATIONAL "STEAM"
OPERATED 'CROSS-LAKE' FERRY SAILINGS
BETWEEN SWITZERLAND AND FRANCE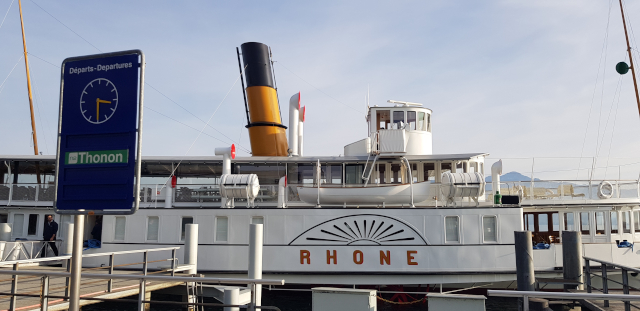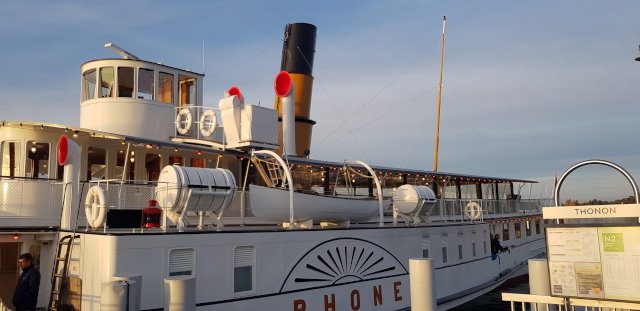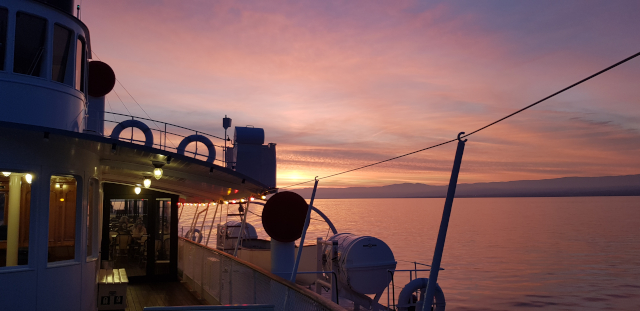 photos: Alain Vuistiner

The paddle steamer continued in service and covered two afternoon
ferry sailings 1217 and 1223 from Lausanne to Thonon-les-Bains

She is seen initially standing at Lausanne before her first crossing
of the day then on arrival at Thonon-les-Bains
finally on board returning to Switzerland on sailing 1218
Thursday - 10th November 2022

PS Rhône (Lake Geneva)

MID-WINTER INTERNATIONAL "STEAM"
OPERATED 'CROSS-LAKE' FERRY SAILINGS
BETWEEN SWITZERLAND AND FRANCE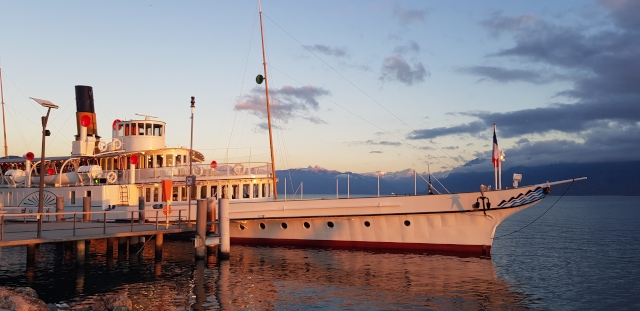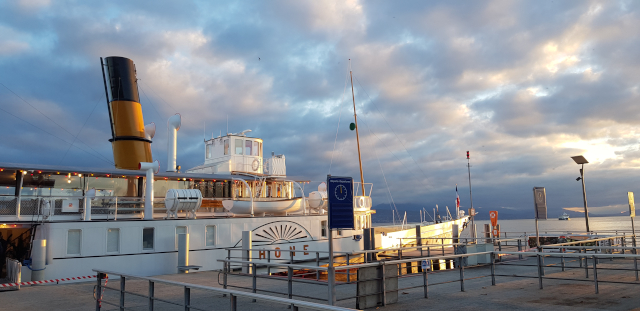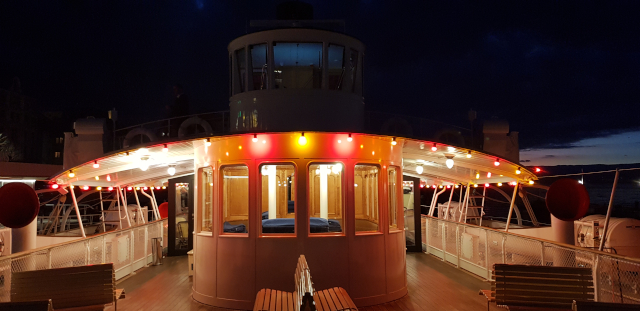 photos: Alain Vuistiner

The paddle steamer was pressed into service at short notice to cover the
afternoon ferry sailings 1213-1214 from Lausanne to Thonon-les-Bains
followed by two "relief" sailings from Lausanne to Evian-les-Bains

Monday - 7th November 2022

PS Stadt Rapperswil (Lake Zurich)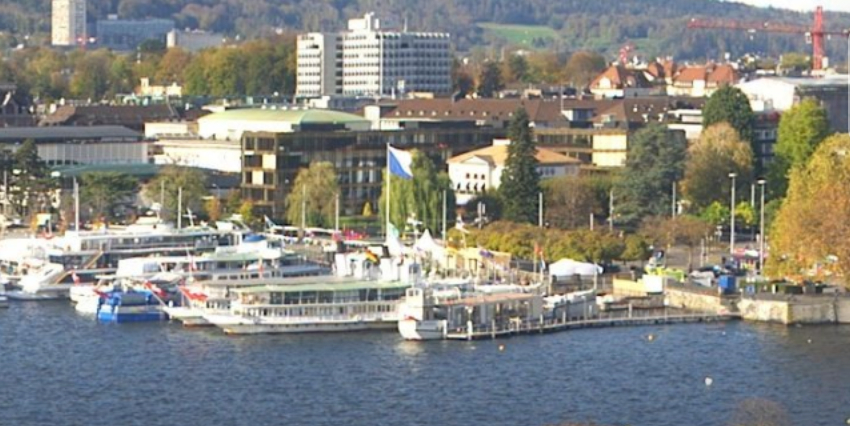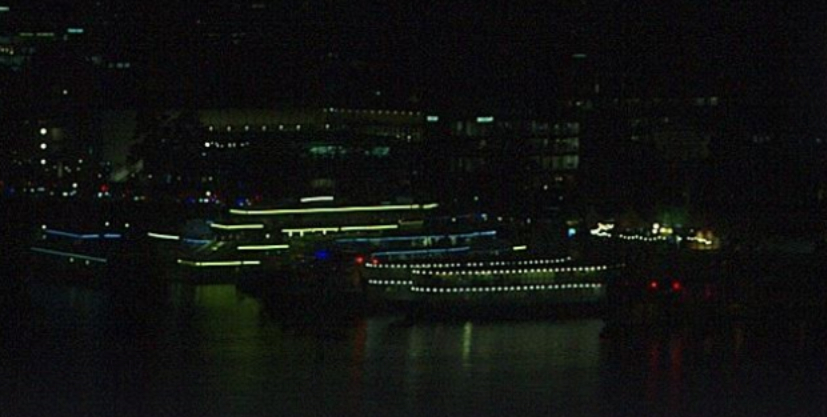 pictures: Zurich webcam
Following missing the 2022 season whilst she had a major rebuild...........
the paddle steamer sailed to Zurich along with sister PS Stadt Zurich
and several motor vessels to take part in the annual static floating
"wine 'Expovina' exhibition" - seen both in the daytime and at night
Monday - 7th November 2022

MPV Helvétie (Lake Geneva)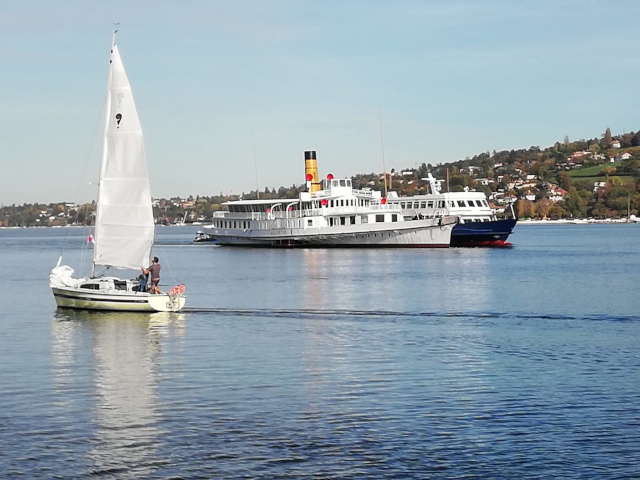 photo: Robert Monch

In order to free up spare capacity at Ouchy Harbour the motor paddle vessel
was towed to Geneva by mv Léman

She will spend the winter (at least) moored at Jardin Anglais pier
- hopefully helping to fuel enthusiam for her eventual 'return to service'
Sunday - 6th November 2022

PS Rhône (Lake Geneva)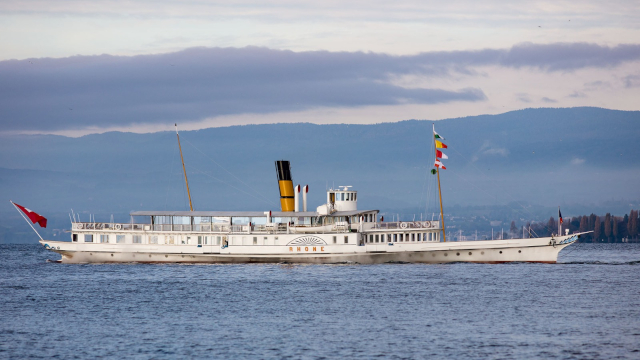 photo: Jean Vernet
The paddle steamer sails stern first out of from Ouchy harbour to Lausanne pier
prior to operating the first ferry run if the day to Evian-les-Bains in France
Friday - 3rd November 2022

MPV Vevey (Lake Geneva)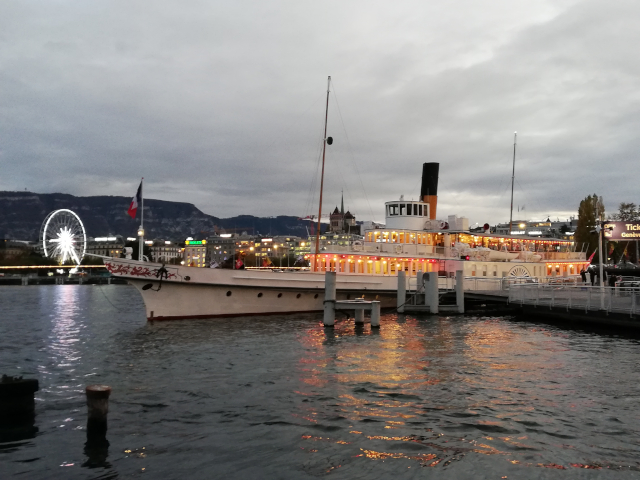 photo: Robert Monch
The motor paddle vessel stands at Geneva Mont Blanc pier prior to operating her
weekly evening Fondue Cruise sailing 390 to Coppet
Can you help to identify this old Italian paddle steamer ?
click here to look
Do you want to know what every paddle steamer in service
is expected to do on a day-by day basis throughout 2023 ?
Then click here to find out
(information is being added/updated as and when advised to me)

Please e-mail me if you are aware of any errors or updates
so they can be corrected for the benefit of other visitors to this website